Britain zoo hiring human seagull-scarers: 'Must be an excellent flapper'
Are you outgoing, energetic and an "excellent flapper"? A zoo in Britain has the job for you.
Blackpool Zoo is in the seaside resort town of Blackpool, where zookeepers have always had problems with seagulls trying to steal food from visitors and penguins alike.
"Seagulls make a real nuisance of themselves during busy times at our eateries and also during talks, feeds and demonstrations that involve fish," zoo officials tell FOX TV Stations.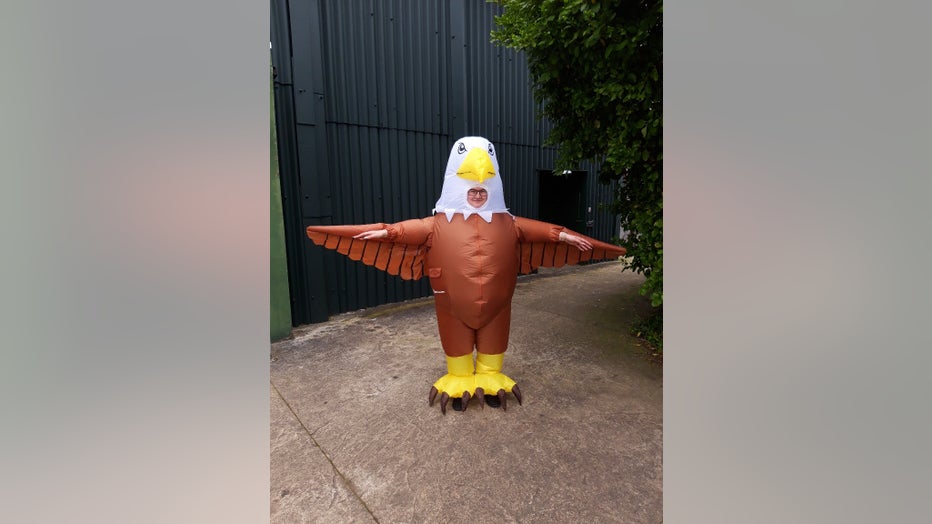 The eagle costume to be worn by the human "seagull deterrents" (Blackpool Zoo)
They've tried everything in years past to deter the seagulls, including supersized eagle kites, large birds of prey statues – and even training one of the zoo's birds of prey to patrol the skies.
READ MORE: Watch: Moose helps itself to popcorn and a Happy Meal at Alaska movie theater
This year, the zoo's operations manager decided to try something different: they're hiring a team of five people to wear an eagle costume and use their flapping skills to scare the seagulls away. 
"The costume is something the seagulls won't have seen before, and as intelligent birds, they will naturally not like it," zoo officials say. "The costume also makes a sound when the person is moving, which is something else the seagulls don't like."
Photos and video of the seagull deterrent in action have gone viral on every continent, according to the zoo. They've received more than 200 applications, with some coming from Australia, Thailand, India, Ukraine and Uganda.
"The job vacancy has broken the internet," zoo officials say. "Visitors are all asking for selfies with Britain's newest celebrity!"
Applicants should be "visitor focused, friendly, energetic, flexible and outgoing – as you need to be comfortable wearing a bird costume!"
"If this week is anything to go by, they will be approached for pictures by a lot of people," zoo officials say. "Lively, energetic, fun and, most importantly, an excellent flapper, will be top of the essentials list during interviews."
Click here to apply.