Bison herd introduced at Dakota County park
ROSEMOUNT, Minn. (FOX 9) - Hundreds gathered inside Spring Lake Park Reserve on Wednesday, to watch a bit of history unfold. The Rosemount park prairie is now home to a herd of a dozen bison: 8 adult females and 4 male calves born in just the last month.
"It's a party of the history of this area, and so little of it is left that here's an opportunity for people to learn," Dakota County Parks Natural Resource Manager Tom Lewanski said. "They're helping us to stitch this community back together again."
Prior to European colonization, Dakota County lands were about 80% prairie, with bison playing a vital role in that ecosystem. But the last wild bison seen in this county dates back to around 1840; and until now, in Minnesota, the animals could only be found on display at a couple of zoos and state parks.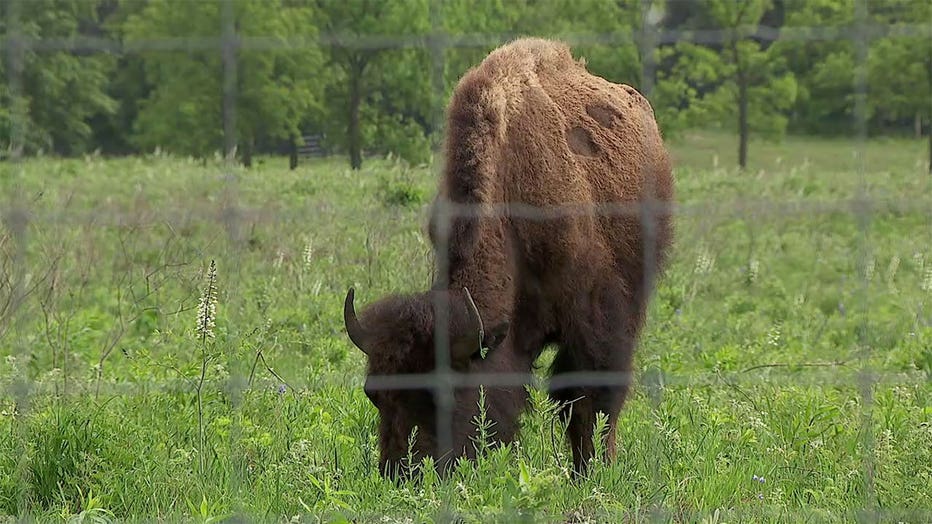 Bison are back in Dakota County. (FOX 9)
"This is a first, we are the first county in the state to introduce bison," Lewanski told FOX 9.
Sixty million bison once roamed the United States over thousands of years. But in the late 1800s, the United States military killed tens of millions, in a plot to starve Native Americans.
After years of western expansion, at one point only about 1,000 bison were left.  Prairie Island Tribal Community Treasurer Michael Childs Jr. calls it a systematic obliteration of a species so vital to his ancestors' way of life.
"They take me back to a time before all of this civilization," Childs Jr. told FOX 9. "This is a very special day."
Moving forward in Dakota County, the herd will graze 20-acre paddocks on 150 acres of land. The hope now is that the animals can serve as a gateway to help people learn more about our shared history and complicated past.