Biden, Trump tied in hypothetical 2024 rematch, NYT/Siena College poll finds
President Biden and former President Trump are tied in a hypothetical 2024 rematch, but each remain unpopular with voters, according to a New York Times/Siena College poll released Tuesday. 
If the 2024 presidential election were held today, both Biden and Trump would receive 43% support overall from registered voters surveyed. However, both men continue to have high disapproval numbers, with 54% of voters disapproving of Biden and 55% of Trump, according to the survey.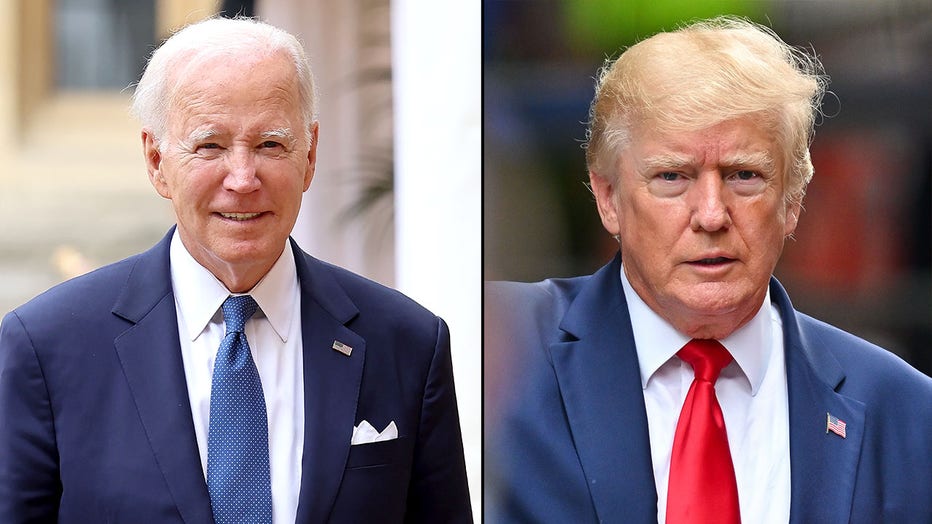 (L) The President of the United States, Joe Biden arrives in the Quadrangle at Windsor Castle as part of a ceremonial welcome on July 10, 2023 in Windsor, England. (R) Former U.S. President Donald Trump leaves Trump Tower to meet with New York Attorn
The national poll was published roughly 15 months before the election on Nov. 5, 2024, and less than six months before the first primary contest. Despite those high unfavorable ratings, Biden and Trump continue to be the commanding leaders for their respective party's presidential nomination. 
In a New York Times/Siena College poll released Monday, Trump received 54% support from GOP primary voters, with runner-up Florida Gov. Ron DeSantis at just 17%. 
TRUMP LEADS DESANTIS BY 37 PERCENTAGE POINTS IN GOP PRIMARY: NYT/SIENA COLLEGE POLL
Trump remains unpopular as he faces criminal indictments based on allegations that he illegally kept classified documents after leaving the White House, making him the first president to face federal indictment. He has pleaded not guilty. A second federal indictment in Washington, D.C., related to Justice Department Special Counsel Jack Smith's probe into Jan. 6 may be forthcoming. 
According to the poll, 51% of voters think Trump has committed serious federal crimes, and 53% believe his actions challenging the 2020 presidential election "went so far that he threatened American democracy." 
Biden currently holds a stronger lead in the Democratic primary with 64% support compared to his challengers Robert F. Kennedy Jr. (13%) and Marianne Williamson (10%). 
Even so, the numbers indicate most Democratic voters are still looking for a viable alternative to Biden as half of those planning to vote in the primary want a different candidate for 2024. Of that half, 39% said Biden's advanced age of 80 years old was the number one reason they preferred someone else. Another 20% said Biden's poor job performance was their reason, and 14% just want someone new. Only 5% said Biden's mental acuity was reason to seek an alternative.
FOX NEWS POLL: TRUMP GAINS GROUND POST-INDICTMENT
The White House batted down questions about Biden's age last week after Senate Minority Leader Mitch McConnell, R-Ky., froze in front of news cameras. McConnell, 81, trailed off from his comments at a news conference Wednesday and stared blankly for nearly a minute before he was assisted away from the podium for a rest. He reappeared about 10 minutes later and insisted he was fine, but the incident renewed concerns about the advanced age of several members of Congress and the president.
At a press briefing on Thursday, White House press secretary Karine Jean-Pierre was asked what the president can do to "reassure Americans" about the capabilities of the nation's aging leaders. She pointed to the president's record beating Republicans at the ballot box since 2020 and his handling of the economy as evidence he's fit to lead.
MAR-A-LAGO WORKER CHARGED IN TRUMP'S CLASSIFIED DOCUMENTS RELEASED ON $100K BOND, ARRAIGNMENT SET FOR AUGUST
"If you look at the work that he's done, if you look at the historic amount of, you know, changes that he's been able to make — 13.5 million jobs created under this president. Unemployment at under 4%. Wages are up and inflation is moderating. That's what we care about — if we are continuing to deliver for the American people in a way that truly, truly matters," she said. 
Contrary to the White House's cheery view of the economy, 49% of voters rated the economy as "poor" and 29% said it was "only fair" under Biden's watch. A 65% majority think the country is headed in the wrong direction, according to the survey.
The poll of 1,329 registered voters nationwide, including an over-sample of 818 registered Republican voters, was conducted in English and Spanish on cellular and landline phones from July 23-27. The margin of error is plus or minus 3.67 percentage points for all registered voters and plus or minus 3.96 percentage points for the likely Republican primary electorate.
Fox News' Danielle Wallace contributed to this report.