Alaska man saves young moose from choking on trash bag
article
An Alaskan man saved a moose from choking on a trash bag and his photos from the risky encounter are getting attention across the country.
James West, of Anchorage, said he was driving past some dumpsters on March 23 when he spotted what appeared to be a moose with something hanging from its mouth.  
West decided to investigate and as he got closer, he saw that the poor animal had what he thought was the tail end of a trash bag hanging from its mouth.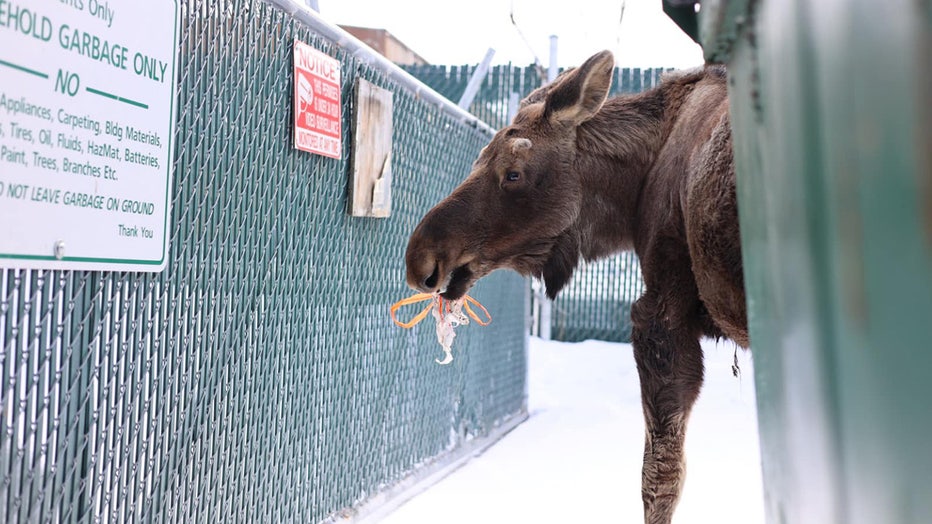 A moose choking on a trash bag. (James West)
"He was stumbling, chewing profusely, and foaming at the mouth," West said in his original Facebook post about the incident. 
He called Animal Control but felt time was of the essence and decided to take matters into his own hands. 
West is no stranger to seeing moose, especially being a born-and-bred Alaskan. 
He told FOX TV Stations that he has seen hundreds of moose over the course of his life. 
"I can remember being a little kid and sneaking them carrots and potatoes out my bedroom window. Nowadays, you're not even allowed to feed them and that's understandable," he lamented. 
West said he approached the animal slowly and once he was able to get close enough to grab onto the trash bag drawstrings, he began to pull. 
After about 20 minutes of pulling, West was finally able to get the entire trash bag out of the moose's mouth.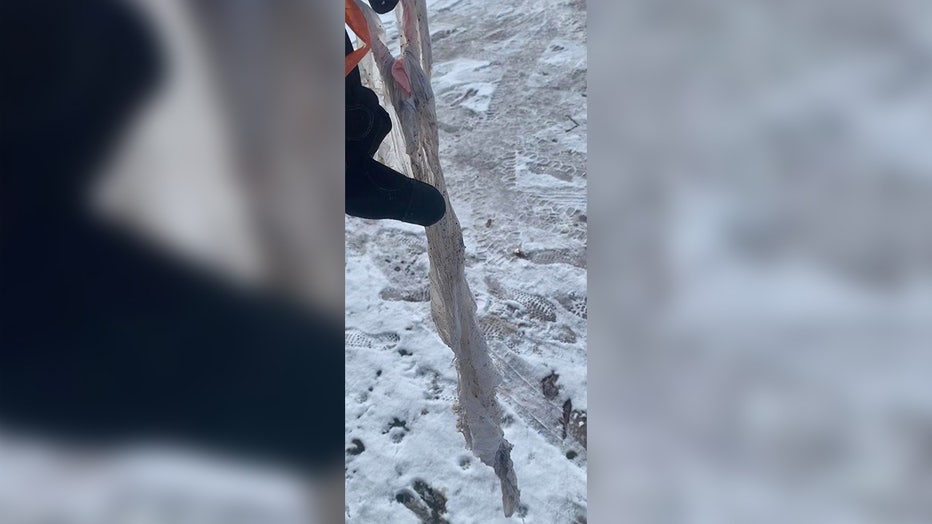 The trash bag James West pulled from a moose that appeared to be choking on it.  (James West)
"The trash bag, luckily, was slightly stuck in his molars preventing him from swallowing the bag completely, and that was probably the scariest point because I wasn't sure how he was going to react as I start pulling, and wasn't sure if there was still trash in this bag. And, how it might scare him as I start pulling it out of his throat. Luckily, the bag was empty and intact," West explained. 
Once the trash bag was out, West said the moose's demeanor changed "from worried and scared" to "almost puppy-like and playful." 
As a treat, West gave the moose a pumpkin he found nearby.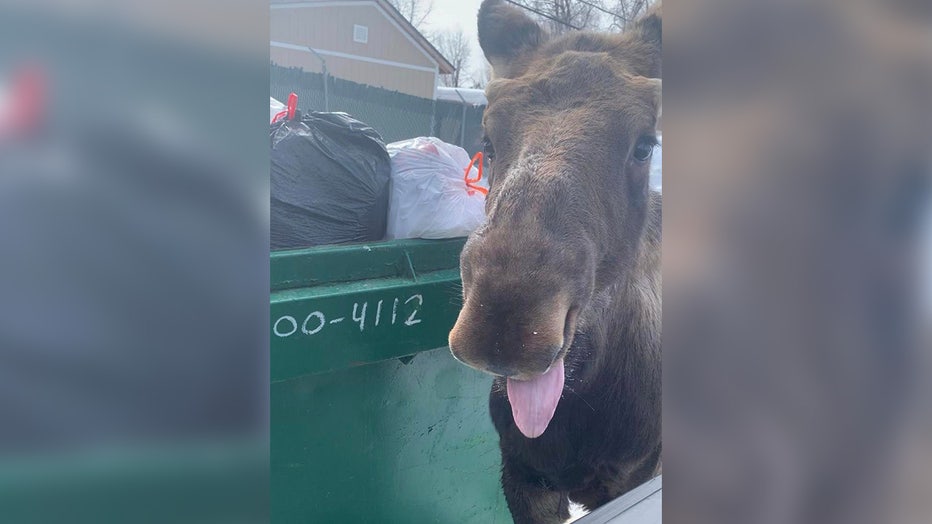 The moose in good spirits after James West managed to pull the trash bag from its mouth and throat. (James West)
"I hung out with him for a little more than an hour, making sure he was OK and watching him eat and play with his pumpkin," West said.  
James West petting the moose. (James West)
According to West, it wasn't very common to see moose go dumpster diving but speculated that the moose he rescued was 2 or 3 years old and was the "little guy's first winter alone." 
The dumpsters were in poor condition and not very secured, according to West, who said it was upsetting to see and seemed very irresponsible considering the wildlife nearby. 
"It's very sad he almost lost his life to trash," West said. 
But luckily, this story has a happier ending. West said he has seen the moose a few times since their first encounter and he appeared to be doing great and "thankfully he was nowhere near the dumpsters."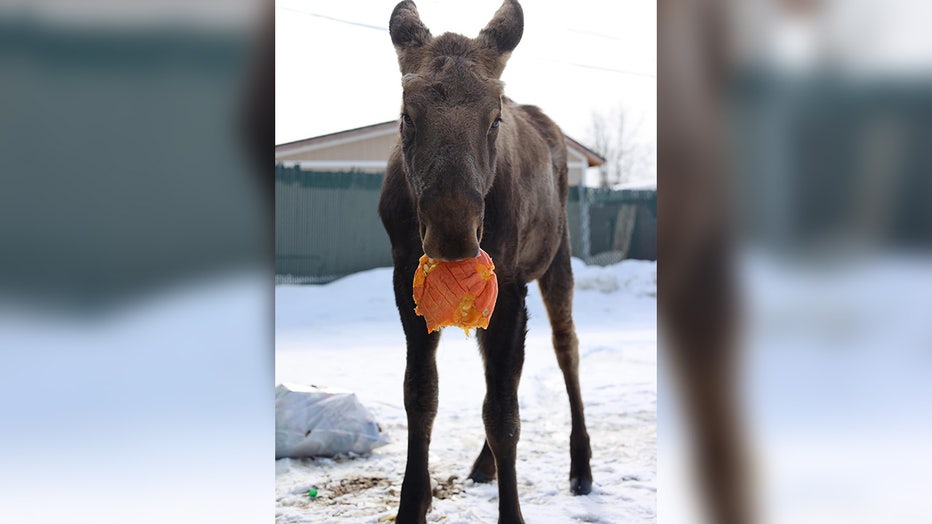 The moose with a pumpkin James West gave as a treat. (James West)
While West's actions were noble, he does not suggest anyone imitate what he did. 
"Moose are very dangerous and very unpredictable. I definitely would not advise others to do as I did. But I think there's always something someone can do. Rather it be call animal control, or fish and game; call anybody if you're unable to help," he advised. 
West posted the photos to his Facebook page to simply share the ordeal with his friends and family in the lower states and never imagined it would draw as much attention as it did.  
"It was nothing, I never expected my post to blow up as it did," he said. 
The Facebook post has since amassed over 2,500 comments and 12,000 shares. 
"And reading through the comments, wow. So many people throwing around the word 'hero.' I'm not so sure what I did would be heroic or stupid, but I would do it again for any animal at any age," West said. 
This story was reported from Los Angeles.