Airbnb renting out Paris theater that inspired 'Phantom of the Opera'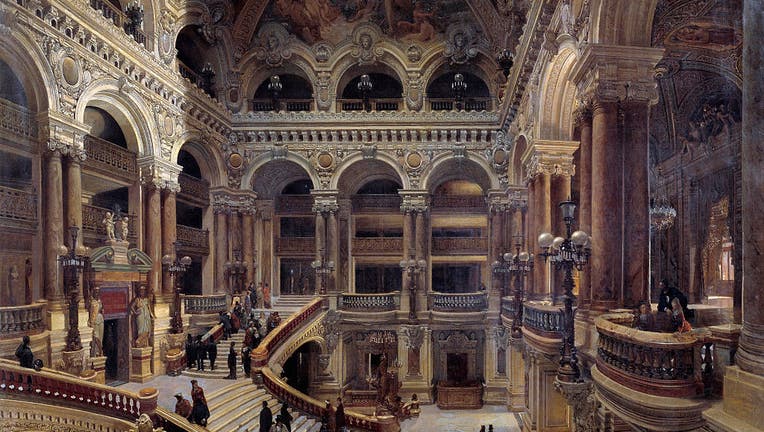 article
PARIS - "Phantom of the Opera" fans now have the chance to stay at the luxurious Palais Garnier opera house, which the company has partnered with the Opera National de Paris to transform the Box of Honour into a full suite. 
The prestigious box, previously reserved for only the highest in society including royals and dignitaries, will be decorated with red and gilded gold and give the guests a bird's eye view of the stage from their bedroom. 
"One of the most exclusive private viewing areas in the Palais Garnier, the Box of Honour, has been transformed into a majestic bedroom! Spend an exceptional night in the home of The Phantom of the Opera befitting the mysteries and architectural splendor of the Parisian landmark," writes the Airbnb post online. 
There you'll have the chance at a variety of activities including a private ballet initiation, recital and tour of previously restricted areas.
The stay includes: 
- The best location in the house to truly appreciate the beauty of the Palais Garnier
- A tour of hidden areas
- A private ballet initiation
- An exclusive recital performance
- Dinner in the lavish Foyer del la Danse
- A rooftop tour of the iconic Opera building
"Phans will be able to follow in the footsteps of le Fantôme and book a night in the mythical underworld where it all began – the historic Palais Garnier Opera in Paris," Airbnb said in its news release. "Guests will also get to 'haunt' the halls of the iconic building, including a visit to the real underground lake, home of the Phantom, featured in the famous novel."
Your stay will be hosted by none other than Véronique Leroux – the great-granddaughter of Gaston Leroux, who originally created the legendary phantom character.
'My great-grandfather's classic story has inspired so many people through the years,' says Véronique. 'This is the perfect time to honour him and welcome "phans" to the famous setting of his much-loved novel for a once-in-a-lifetime stay.'
In order to book this extravagant stay, fans will have to act quick. The overnight stay will take place on the 16th of July 2023 and will cost just €37 but bookings will take place at 5pm on Wednesday 1st March 2023.