Air quality alert expanded for western and northern Minnesota due to wildfires
(FOX 9) - The Minnesota Pollution Control Agency (MPCA) has expanded an air quality alert issued on Tuesday to include western and northern Minnesota until Wednesday evening. 
The alert triggered by wildfire smoke from Canada runs until 6 p.m. on Wednesday for Brainerd, Alexandria, Albert Lea, Marshall, Worthington, Ortonville, Mankato, Bemidji, East Grand Forks, Moorhead, International Falls, Hibbing, Ely, Roseau, and the tribal nations of Upper Sioux, Mille Lacs, Leech Lake, and Red Lake. 
"Heavy smoke is currently impacting the Red River valley region in northwest Minnesota. Smoke will continue to move east and the impact area will expand to include southwest and north-central Minnesota," said MPCA.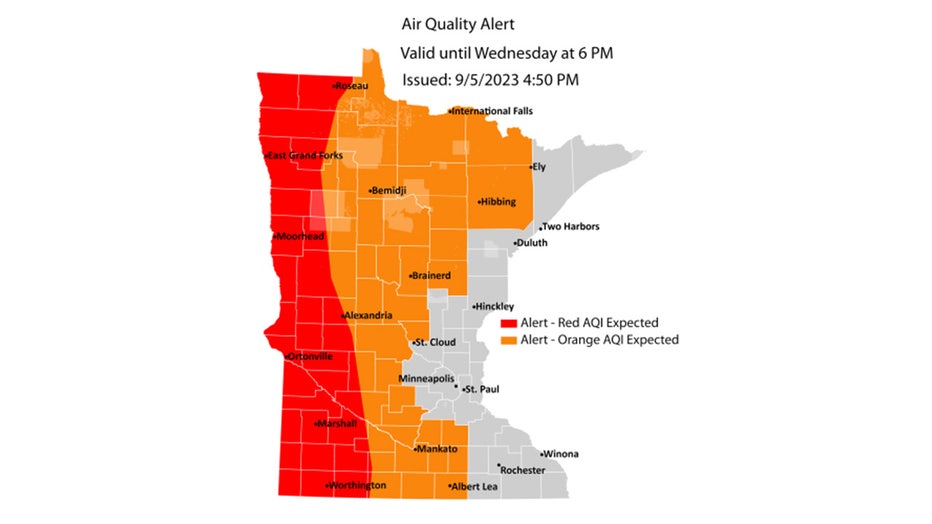 (Minnesota Pollution Control Agency)
The Air Quality Index (AQI) has been upgraded to the red category for western Minnesota, meaning it's unhealthy for everybody, and remains in the orange category for the remainder alert zone. 
The smoke from the wildfires should clear Wednesday evening. 
Visit MPCA's air quality alert page for more information on current air quality conditions.