3 face charges connected to alleged plot to attack synagogues, black churches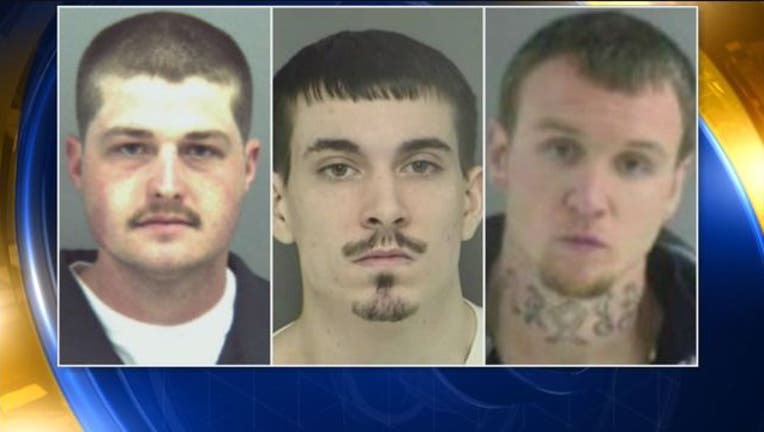 article
RICHMOND, Va. - (AP) -- Two men described by authorities as white supremacists have been charged in Virginia with trying to illegally buy weapons and explosives to use in attacks on synagogues and black churches.
Robert C. Doyle and Ronald Beasley Chaney III tried to buy an automatic weapon, explosives and a pistol with a silencer from three undercover agents posing as illegal firearms dealers, FBI agent James R. Rudisill wrote in an affidavit filed Monday in U.S. District Court in Richmond.
Doyle, 34, and Chaney, 33, are charged with conspiracy to possess firearms after being convicted of felonies, according to the affidavit.
An associate, 30-year-old Charles D. Halderman, is accused of plotting to rob a jeweler and use the money to help Doyle buy land and stockpile weapons for "an impending race war," the affidavit says. He is charged with a robbery conspiracy.
Doyle lives in Chester, a few miles south of Richmond. Court records did not list addresses for Chaney and Halderman. The defendants' attorneys did not respond to telephone messages Tuesday.
Meanwhile, the Richmond Times-Dispatch reported (http://bit.ly/1QtlQXy) that Chaney's father, 58-year-old Ronald Beasley Chaney Jr., and 52-year-old Terry Gunn Chaney were charged with drug and firearms offenses after Henrico County police executed a search warrant at a home in Highland Springs on Sunday. The newspaper said Terry Gunn Chaney is "believed to be'" the wife of Ronald Beasley Chaney Jr.
Henrico County police did not immediately respond to a telephone message from The Associated Press on Tuesday evening.
According to Rudisill's affidavit, Doyle and the younger Chaney "ascribe to a white supremacy extremist version of the Asatru faith," a pagan sect that emphasizes Norse gods and traditions. The affidavit says the FBI learned that Doyle planned to host a meeting at his home in late September to discuss "shooting or bombing the occupants of black churches and Jewish synagogues, conducting acts of violence against persons of Jewish faith, and doing harm to a gun store owner in the state of Oklahoma."
FBI surveillance determined that the meeting took place as scheduled, and about a month later Doyle and Chaney met for the first time with an undercover agent to discuss buying weapons. Doyle placed an order for the weapons, despite Chaney's suspicions. The FBI recorded Chaney saying that the meeting with the agent "sounds like ATF to me."
The transaction was completed Sunday, and Chaney was arrested on the spot. Doyle was arrested later that day and, according to the affidavit, admitted that he and Chaney arranged for the gun purchase.
Police executed a search warrant at Doyle's home and recovered more than 30 rounds of .45-caliber ammunition from his truck, the affidavit says. One of the guns Doyle ordered was a .45-caliber pistol with a silencer.
In a telephone interview, FBI agent Michael Schuler in Richmond declined to say whether authorities believe attacks were imminent before the men were arrested. He also would not say whether they believe others are making similar plans.
All three defendants have multiple felony convictions, according to the FBI's affidavit.
The men are being held in custody until their initial court appearances. Doyle and Chaney are due in court on Thursday; Halderman on Friday.
© 2015 The Associated Press. All rights reserved. This material may not be published, broadcast, rewritten or redistributed.