20 plead guilty in massive Twin Cities cell phone theft ring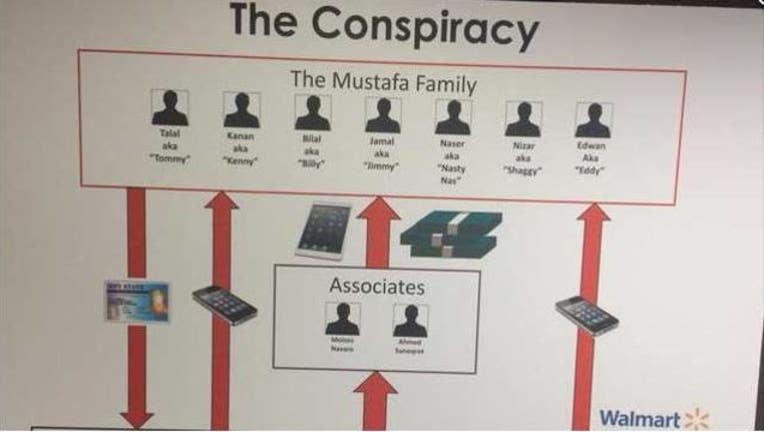 article
Twenty defendants charged in a conspiracy to traffic stolen cell phones and other electronic devices have now pleaded guilty, U.S. Attorney Andrew Luger announced Friday. The defendants are all part of the Mustafa family, a Twin Cities-based syndicate that allegedly made millions stealing cell phones and selling them at a huge markup.
The indictment said the Mustafa family paid runners to steal phones or purchase discounted phones through subscription fraud. They targeted stores like Best Buy, Walmart, Verizon, T-Mobile and online Apple stores. One runner allegedly stole 9,000 cell phones, making the organization an estimated $3 million.
According to the guilty pleas and documents filed in court, members of the Mustafa family and their associates used stolen identify information and other criminal means to acquire at least $20 million worth of cell phones and other mobile devises for the purpose of trafficking them throughout the U.S. and overseas.
One runner was arrested in Utah in 2013 with more than 80 fake IDs and stolen IDs that were used to open lines of credit at various stores to purchase phones and tablets. Some of the runners operated only in Minnesota, but others traveled to Arizona, Idaho, Illinois, Iowa, North Dakota, Utah and Wisconsin to obtain devices, with all expenses paid by the organization.
Members of the group also fabricated loan applications and provided false documentation to get loans for vehicles used to transport the stolen devices and proceeds. In addition, they made fraudulent credit card transactions to steal from credit card processing companies.
The Mustafa family owned 13 wireless stores in the Twin Cities metro, where they knowingly purchased stolen phones and tablets. The stolen phones and tablets were sold for substantial profits that were dispersed among themselves and used to pay for rent, utilities, payroll, and other expenses to keep their stores in business and promote the unlawful activity.
Mustafa Family storefronts:
- 5176 Central Ave. NE, Columbia Heights
- 2145 Lowry Ave., Minneapolis
- 2130A E. Lake Street, Minneapolis
- 2106 E. Lake Street, Minneapolis
- 827 W. Broadway Ave., Minneapolis
- 931 W. Broadway Ave., Minneapolis
- 523 W. Broadway Ave., Minneapolis
- 1506 W. Broadway Ave., Minneapolis
- 2503 Central Ave. NE, Minneapolis
- 4088 Lakeland Ave. N., Robbinsdale
- 605 University Ave. W., St. Paul
- 476 Lexington Pkwy N., St. Paul
- 1320 Maryland Ave. E, Suite 103, St. Paul