2 killed when small plane crashes into South Florida mobile homes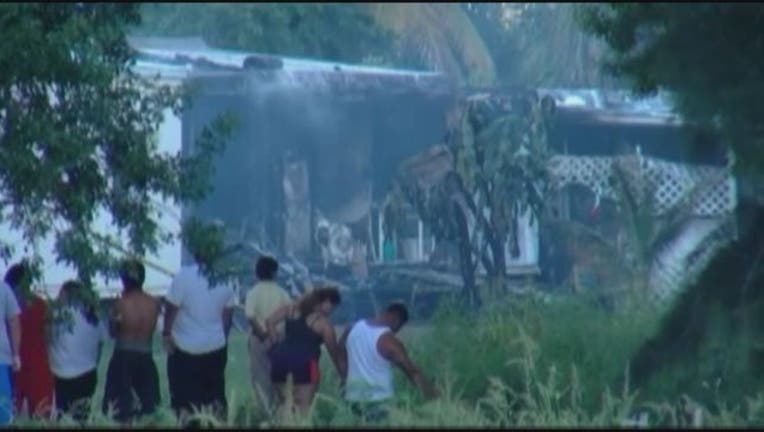 article
PALM SPRINGS (AP) - A small plane crashed into a mobile home park and set two homes on fire, killing the pilot and a 21-year-old woman who was inside one of the homes, investigators and a relative said Wednesday.
No one else was aboard the plane and no one else on the ground was injured when the plane plunged from the sky about 5:30 p.m. Tuesday into a park of a few dozen mobile homes, National Transportation Safety Board investigator Dan Boggs said at a news conference.
"We're very fortunate it wasn't worse," he said.
Domingo Galicia said his trailer was engulfed in flames his daughter, Banny Galicia, was inside and presumed dead. He said he heard the plane but never saw it. He said he was blocked by flames when he went to open the door to the home after the crash.
"Banny! Banny! Come outside!" he said he screamed at his daughter.
Investigators said it was too soon to speculate on what caused the plane to go down at the Mar-Mak Colony Club, a park a few dozen homes where many of the residents speak only Spanish. The park is dotted with palm trees and bordered by a drive-in movie theater, a wooded area and strip malls catering to Spanish-speaking residents.
Palm Beach County Fire Rescue Capt. Albert Borroto said 911 callers reported a low-flying aircraft and first responders arrived at the crash site to find thick smoke rising in the air.
Stephanie Martin, 21, said Banny Galicia was her best friend whom she had known since middle school.
"She was very caring and loving," she said. "She always knows how to make people laugh and smile, silly jokes."
She was a student at Palm Beach State College, liked listening to Christian music and was active in her church.
She doesn't believe her friend could have survived.
"She would have showed up by now. I keep picturing her coming but she doesn't show up. I want to have hope but there is none. I want to have faith but I lost it."
The pilot was not identified. Investigators said the plane was flying from Orlando to nearby Lantana.
Clara Ingram, who lives in the trailer park, told The Associated Press that she was home at the time of the crash and heard it happen.
"It just pounded, like an explosion," Ingram said. When she went to look out her door, she saw "nothing but a big ball of fire."
Tyron Caswell, an employee of a car dealership across the street, told the Sun Sentinel newspaper he saw a huge plume of smoke after hearing the crash. He said employees there were reviewing security footage taken outside the building of the plane dropping from the sky.
"When I look back at the video it was like, `Whoa,"' he said, adding he was stunned by how close he was to the crash.
Boggs said investigators are reviewing the video.
The Red Cross had been called to assist two families, authorities said.