11 minute 'brisk' walks every day could reduce early deaths, study finds
Researchers from the University of Cambridge in the United Kingdom found that 1 in 10 early deaths could be prevented if people participated in just half the recommended level of daily activity. 
The study, which was published in the British Journal of Sports Medicine on March 1, said that "11 minutes a day (75 minutes a week) of moderate-intensity physical activity – such as a brisk walk – would be sufficient to lower the risk of diseases such as heart disease, stroke and a number of cancers." 
Researchers in the Medical Research Council (MRC) Epidemiology Unit at Cambridge reviewed data from 196 peer-reviewed sources which covered the association between physical activity levels and risk of heart disease, cancer, and early death. 
Data from more than 30 million participants from 94 large study cohorts were evaluated. 
From these studies, researchers found that outside of work-related physical activity, 2 out of 3 people said they had less than 150 minutes per week of moderate-intensity activity and fewer than 1 in 10 got in more than 300 minutes per week. 
"If you are someone who finds the idea of 150 minutes of moderate-intensity physical activity a week a bit daunting, then our findings should be good news. Doing some physical activity is better than doing none. This is also a good starting position – if you find that 75 minutes a week is manageable, then you could try stepping it up gradually to the full recommended amount," Dr. Soren Brage from the MRC Epidemiology Unit said in a news release about the study. 
If people just put in about 75 minutes of activity in a week, they had a 23% lower risk of early death.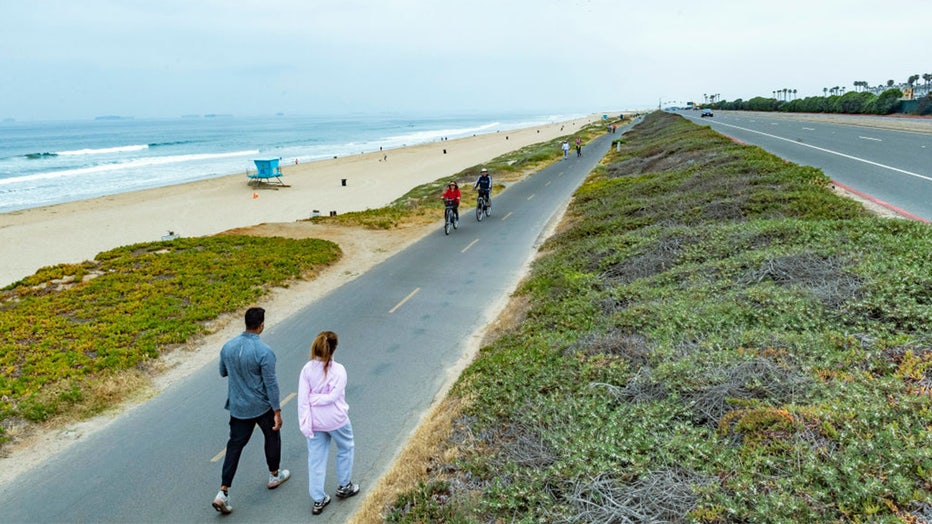 FILE - Walkers, runners and cyclists use the California Coastal Trail in Huntington Beach, CA on Wednesday, May 12, 2021. (Paul Bersebach/MediaNews Group/Orange County Register via Getty Images)
Getting in 75 minutes of moderate-intensity activity a week also showed a reduced risk of developing cardiovascular disease by 17% and cancer by 7%. 
"For some specific cancers, the reduction in risk was greater – head and neck, myeloid leukaemia, myeloma, and gastric cardia cancers were between 14-26% lower risk. For other cancers, such as lung, liver, endometrial, colon, and breast cancer, a 3-11% lower risk was observed," according to the news release. 
It was calculated that if participants were able to get in at least 150 minutes a week of moderate-intensity activity, about 1 in 6 (16%) of early deaths could have been prevented. 
Also, 1 in 9 (11%) of cardiovascular disease and 1 in 20 (15%) cases of cancer could have been prevented, according to researchers. 
"We know that physical activity, such as walking or cycling, is good for you, especially if you feel it raises your heart rate. But what we've found is there are substantial benefits to heart health and reducing your risk of cancer even if you can only manage 10 minutes every day," Professor James Woodcock from the MRC Epidemiology Unit, said. 
But, if 150 minutes is not doable for some, 75 minutes a week of moderate-intensity activity proved more than beneficial. 
Taking an 11-minute walk around the block every day amounts to about 77 minutes of activity a week. 
Just 75 minutes of activity a day could prevent 1 in 10 (10%) of early deaths, 1 in 20 (5%) of cardiovascular disease diagnoses and nearly 1 in 30 (3%) of cancer cases. 
"Moderate activity doesn't have to involve what we normally think of exercise, such as sports or running. Sometimes, replacing some habits is all that is needed. For example, try to walk or cycle to your work or study place instead of using a car, or engage in active play with your kids or grand kids. Doing activities that you enjoy and that are easy to include in your weekly routine is an excellent way to become more active," Dr. Leandro Garcia from Queen's University Belfast said in a statement. 
This story was reported from Los Angeles.