Minnesota weather: Foggy start, cloudy and calm Sunday
(FOX 9) - Overnight fog and low temperatures could create some slick spots on Sunday morning.  
Fog from Saturday night lingered into Sunday morning for most of the state, with a dense fog advisory issued for counties in western and parts of central Minnesota. There are some pockets of quarter-mile visibility for areas west of the metro, like Alexandria and Mankato, so drive with care. 
Visibility shouldn't be as much of an issue in the Twin Cities as the fog is slightly lighter, but there could be some denser patches. The clouds will linger for most of the day, but sunshine could peak through in the late afternoon. The winds will stay relatively calm on Sunday, making the feels like temperature closer to the actual temperature. 
Sunday will be a seasonable day with quiet conditions. Highs are in the low 20s, with temperatures dropping into the teens overnight. 
There could be some flurries during the week, but the weather will be relatively mild, with seasonable temperatures. By the weekend, temperatures will cool down into the teens.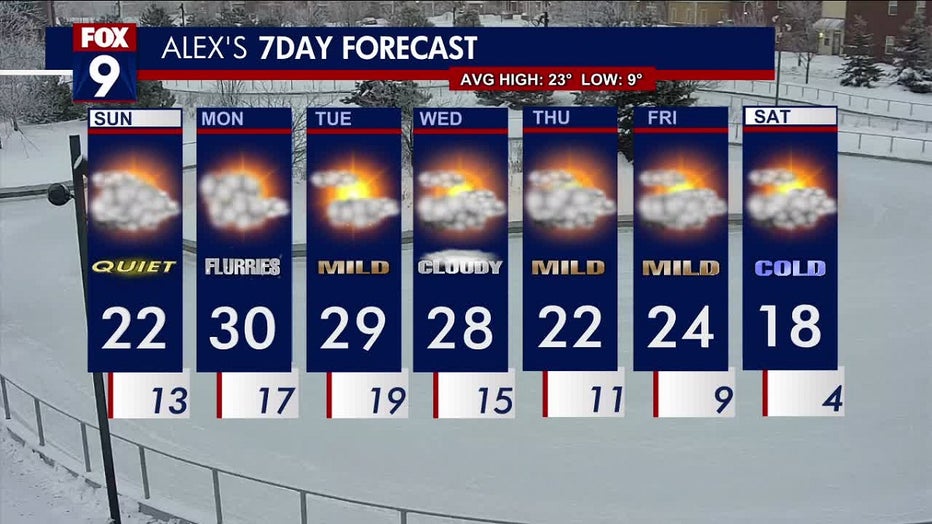 Take a look at your 7-day forecast