Florida prepares for Tropical Storm Idalia with lessons learned from Ian: 'Do not focus on just the cone'
Hurricane, Tropical Storm and Storm Surge Watches have been issued for parts of Florida as the state prepares for potential landfall of Idalia. The National Hurricane Center (NHC) upgraded Tropical Depression Ten near the southern Gulf of Mexico to Tropical Storm Idalia on Sunday, with landfall expected as a hurricane along Florida's Gulf Coast later this week.
There are only a few days left for Florida residents to prepare for the effects of the storm, and Gov. Ron DeSantis declared a state of emergency for 33 counties to ensure communities have the resources they need ahead of the storm's arrival.
DOWNLOAD THE FREE FOX WEATHER APP
DeSantis said in a news conference on Sunday that everyone along Florida's Gulf Coast needs to prepare. 
The governor urged residents not to wait to get ready if they are outside the storm's cone of uncertainty, recalling the forecast for Hurricane Ian last year, which at one point had a potential landfall in the Florida Panhandle. Ian made landfall in Southwest Florida as a major hurricane.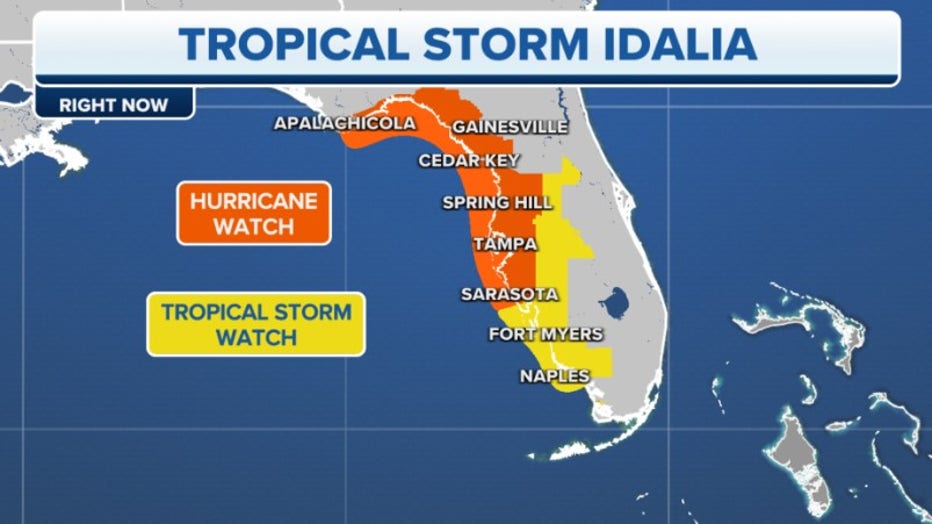 "The models are probably more in agreement than when we had Ian last year. But these things can shift. There's still some uncertainty out there," DeSantis said. 
The FOX Forecast Center does a post-analysis of data after any tropical system makes landfall to determine the agreement and accuracy of forecast models.
The NHC issued a Storm Surge Watch, Hurricane Watch and Tropical Storm Watch for the parts of the Gulf Coast of Florida on Sunday. More watches and warnings may be issued for other areas along Florida's Gulf Coast in the coming days. 
Florida Division of Emergency Management Executive Director Kevin Guthrie said storm surge was the number one cause of death during Hurricane Ian.
"Do not focus on just the cone. The cone is where the eye could go, but those hurricane-force winds and tropical-storm-force winds will extend far beyond what the cone represents," Guthrie said. "We will have storm surge warnings and watches in the coming days."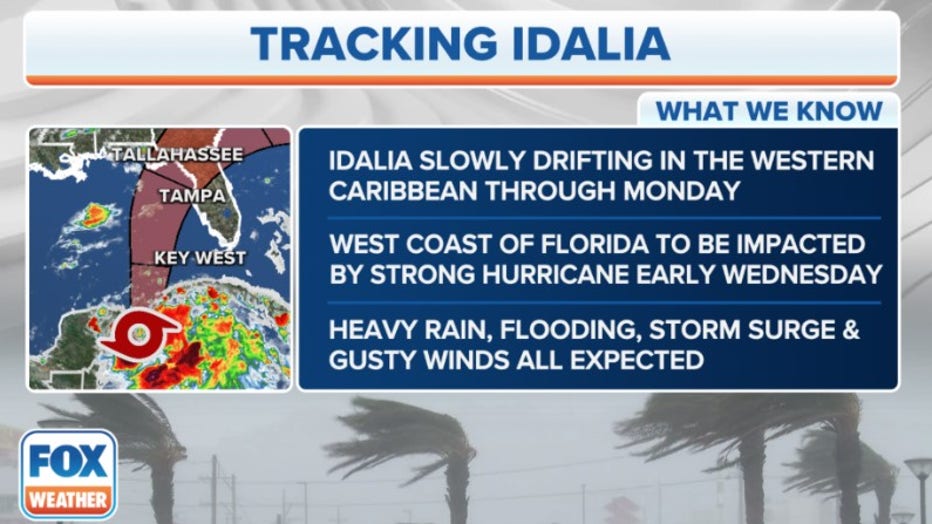 DeSantis said power companies will begin staging linemen on Monday. More than 1,000 National Guardsmen have been mobilized and can use high-water vehicles as well as aircraft for rescue and recovery efforts.
Idalia is forecast to become a hurricane over the eastern Gulf of Mexico by Tuesday, and the NHC is warning residents that there is an increasing risk of life-threatening storm surge, flooding due to torrential rain and hurricane-force winds along portions of Florida's west coast and the Florida Panhandle beginning as early as Tuesday.
Guthrie said the state is preparing its ports to ensure fuel is readily available throughout Florida during and after the storm. Over the weekend, the state learned of fuel contamination at gas stations serviced by the Port of Tampa.
"We are coordinating here the (Emergency Operations Center) with everyone from petroleum retailers to the ports themselves to ensure that the disruption will not be widespread or prolonged and that residents can have a seamless can have seamless access to fuel," Guthrie said.
DeSantis said the contamination was "human error," saying "They put diesel in tanks that were supposed to be regular gas." 
If and when evacuation orders are given, those will come locally from county officials, not the state. 
"So many people that I talked to in Hurricane Ian do not know the difference between FEMA's flood zone and an evacuation zone," Guthrie said. "If you need to know where your evacuation zone is at."
Florida's evacuation zones can be found on county emergency management websites or through local property appraiser's office. 
KNOW YOUR ZONE: FLORIDA EVACUATION MAP SHOWS WHO WILL HAVE TO LEAVE BEFORE A HURRICANE STRIKES
Where is Tropical Storm Idalia?
As of the latest advisory from the NHC, Tropical Storm Idalia is located about 80 miles to the east-southeast of Cozumel, Mexico, and has maximum sustained winds of 40 mph with some higher gusts. Idalia is moving off to the northeast at 3 mph.
The NHC said Tropical Storm Idalia is expected to meander near the Yucatan Channel through Sunday night.
2023 ATLANTIC HURRICANE SEASON GUIDE: HERE'S WHAT TO KNOW ABOUT THIS YEAR'S STORMS
Where is Tropical Storm Idalia going next?
The NHC said Tropical Storm Idalia is expected to begin moving to the north at a faster pace on Monday, which will bring the system over the eastern Gulf of Mexico.
Tropical Storm Idalia is then expected to continue to move to the north or northeast through Tuesday and into Wednesday morning.
FLORIDA HURRICANE THREAT MAP ROOM: FUTURE PATH, WATCHES AND WARNINGS, SPAGHETTI MODELS AND MORE
What watches/warnings for Tropical Storm Idalia are in effect?

The NHC issued a Storm Surge Watch for the Gulf Coast of Florida from Chokoloskee to Indian Pass, which includes the Tampa Bay area. A Storm Surge Watch means there is a possibility of life-threatening flooding from rising water moving inland from the coastline in the next 48 hours.
A Hurricane Watch has been issued for the Gulf coast of Florida from Englewood to Indian Pass, including Tampa Bay. A Tropical Storm Watch has been issued for the Gulf coast of Florida south of Englewood to Chokoloskee and for the Dry Tortugas.
A Tropical Storm Warning is in effect for the Yucatan Peninsula from Tulum to Rio Largartos, including Cozumel, in Mexico. In Cuba, Tropical Storm Warnings are in effect for Pinar del Rio.
A Tropical Storm Watch is in effect for the Isle of Youth, Cuba.
A Tropical Storm Warning is issued when tropical-storm-force winds are expected within the storm warning area within 36 hours. These winds may be accompanied by storm surge, coastal flooding and/or river flooding.
Rainfall impacts from Tropical Storm Idalia
One of the leading impacts from the tropical cyclone is expected to be rainfall. Forecast models show communities along Interstate 10 and west of Interstate 75 will see the highest rainfall totals.
Florida's Apalachicola and Big Bend regions could receive the most precipitation, with 4-6" of rainfall over the next few days. Where bands train over the same areas, some communities could see higher rainfall totals.
The FOX Forecast Center says there is good news with the tropical moisture, many observation sites along the west coast have seen a rainfall deficit in 2023.
Tampa is running more than a foot of precipitation behind normal, and Naples is approaching 20" deficit.
The much-needed rainfall could improve and, for some communities, end the ongoing drought.
Counties such as Pinellas, Pasco and Citrus counties began offering sandbags over the weekend for residents to prepare for flooding in low-lying areas.
Wind impacts from Tropical Storm Idalia
Due to uncertainties with the system's strength, coastal residents along Florida's Gulf Coast are being urged to prepare for impacts from a hurricane.
Sustained winds of at least 39 mph are capable of downing small branches and damaging trees, which can impact power lines.
Once sustained winds reach at least 40 mph, local first responders and emergency management usually shut down access to bridges in an effort to keep high-profile vehicles safe.
The last tropical cyclone to make landfall in Florida was Hurricane Nicole in November. Nicole was a Category 1 cyclone that made landfall near Vero Beach.
The National Centers for Environmental Information estimated the damage from Nicole was around $1 billion.
Read more of this story from FOX Weather.