Embarrass, Minn. rings in New Year with -45 degree temperatures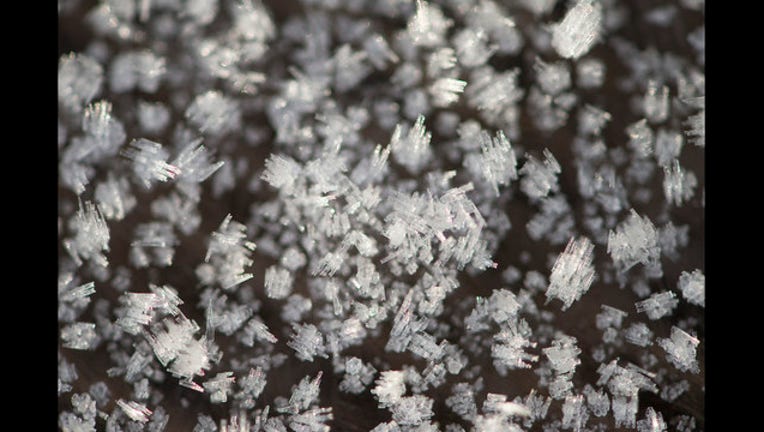 DULUTH, Minn. (AP) - Days of arctic cold are persisting. The National Weather Service reports Embarrass in northeastern Minnesota dropped to a low of 45 degrees below zero Sunday. International Falls bottomed out at 32 below while Duluth dropped to 24 below.
St. Cloud in central Minnesota recorded a low of 24 below. Minneapolis-St. Paul hit 16 below.
A wind chill warning is in effect for parts of east-central, north-central and northeastern Minnesota through New Year's morning. Forecasters warn that dangerously cold wind chills of 25 below to 45 below are expected.
HIGHS AND LOWS FOR NEW YEAR'S EVE
AEL  : Albert Lea             :  -2 / -15 /
AQP  : Appleton               :  -8 / -27 /
BBB  : Benson                 : -11 / -26 /
ANE  : Blaine                 :  -2 / -17 /
CFE  : Buffalo                :  -5 / -18 /
CBG  : Cambridge              :  -4 / -20 /
CNB  : Canby                  :  -5 / -22 /
FBL  : Faribault              :  -2 / -15 /
GYL  : Glencoe                :  -3 / -17 /
GHW  : Glenwood               : -11 / -24 /
GDB  : Granite Falls          :  -6 / -24 /
HCD  : Hutchinson             :  -6 / -20 /
21D  : Lake Elmo              :   0 / -17 /
LVN  : Lakeville              :   M /   M /
LJF  : Litchfield             :  -8 / -18 /
LXL  : Little Falls           :  -8 / -24 /
14Y  : Long Prairie           :  -9 / -26 /
DXX  : Madison                :  -6 / -22 /
MGG  : Maple Lake             :  -5 / -19 /
MVE  : Montevideo             :  -8 / -24 /
JMR  : Mora                   :  -6 / -22 /
MOX  : Morris                 : -11 / -26 /
ULM  : New Ulm                :  -6 / -20 /
OVL  : Olivia                 :  -8 / -22 /
OWA  : Owatonna               :  -2 / -17 /
PEX  : Paynesville            :  -9 / -26 /
PNM  : Princeton              :  -6 / -24 /
RGK  : Red Wing               :   0 / -15 /
ROS  : Rush City              :  -6 / -23 /
D39  : Sauk Centre            :  -9 / -24 /
SAZ  : Staples                : -11 / -33 /
JYG  : St James               :  -6 / -20 /
SGS  : South St. Paul         :   0 / -14 /
ACQ  : Waseca                 :  -2 / -17 /
BDH  : Willmar                :  -8 /   M /
RCX  : Ladysmith              :  -3 / -19 /
Y23  : Chetek                 :  -5 / -20 /
UBE  : Cumberland             :  -6 / -20 /
LUM  : Menomonie              :  -2 / -16 /
RNH  : New Richmond           :  -4 / -19 /
OEO  : Osceola                :  -3 / -19 /
RPD  : Rice Lake              :  -4 / -20 /
DYT  :   Sky Harbor             :  -2 / -18 /
TWM  :   Two Harbors            :   3 / -18 /
BFW  :   Silver Bay Airport     :   0 / -18 /
CKC  :   Grand Marais Airport   :  -6 / -24 /
ELO  :   Ely                    :  -9 / -35 /
ORB  :   Orr                    : -15 / -33 /
CQM  :   Cook                   : -17 /   M /
CDD  :   Crane Lake             : -13 / -35 /
EVM  :   Eveleth                : -10 / -27 /
FOZ  :   Bigfork                :  -9 / -36 /
GPZ  :   Grand Rapids           :  -9 / -29 /
XVG  :   Longville              : -13 / -31 /
PWC  :   Pine River             :  -9 / -29 /
AIT  :   Aitkin Airport         :  -9 / -29 /
MZH  :   Moose Lake             :  -6 / -24 /
04W  :   Hinckley               :  -4 / -20 /
COQ  :   Cloquet                :  -8 / -26 /
HZX  :   McGregor               :  -8 / -24 /
Y49  :   Walker Airport         : -13 / -30 /