Changes to Monday storm forecast in Twin Cities, southern Minnesota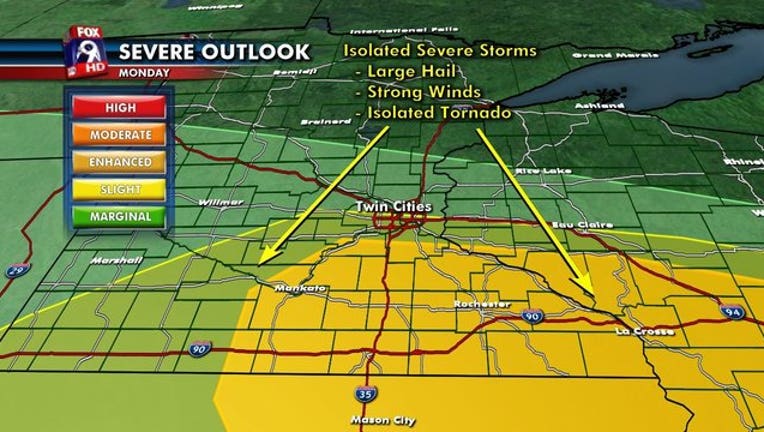 MINNEAPOLIS (KMSP) - The Twin Cities metro is under a slight risk for severe weather Monday afternoon and Monday night, with an enhanced risk for parts of the south metro and much of southeastern Minnesota.
There's a fair amount of uncertainty in how Monday's approaching storm will play out, with a big change in what was already expected Monday morning. Storms have formed to our west in many areas of South Dakota overnight and pushed eastward into Minnesota Monday morning. 
Current thinking is that these storms will hold together enough to give us at least some scattered storms in the Twin Cities metro and the Interstate 35 corridor in the early to mid-afternoon hours, however high resolution computer models have this batch of storms forming into more of a line as they push through the metro. If the atmosphere can destabilize enough and see quick enough return of higher moisture from the south, then some of these storms may be able to get to severe limits with quarter size hail and 40 to 60 mph wind gusts a possibility.
The best chances for the stronger storms will likely stay just south of the metro in the enhanced category area, however, with more uncertainty than normal, there are some big questions on how and where this event will unfold.
Follow Fox 9 chief meteorologist Ian Leonard on Twitter and Facebook, and track the storm for your specific location on the Fox 9 Weather App.
While tornadoes are not anticipated, our stationary boundary is nearby which represents a wind shift in many levels of the atmosphere.  It's this shift in wind direction that can be harnessed by a stronger storm that rolls over it and can spin up quick and weak tornadoes. But again, the overall chances for this happening are low, but it is still a possibility. 
If scattered storms roll through the I-35 corridor in the early to mid-afternoon, it would likely end any chances for additional severe weather the rest of the day and Monday night, however more storms are likely in the overnight hours regardless.  Chances for more severe weather will likely return either way late on Tuesday.
BUT WAIT, THERE'S MORE - Several rounds of heavy rain possible this week