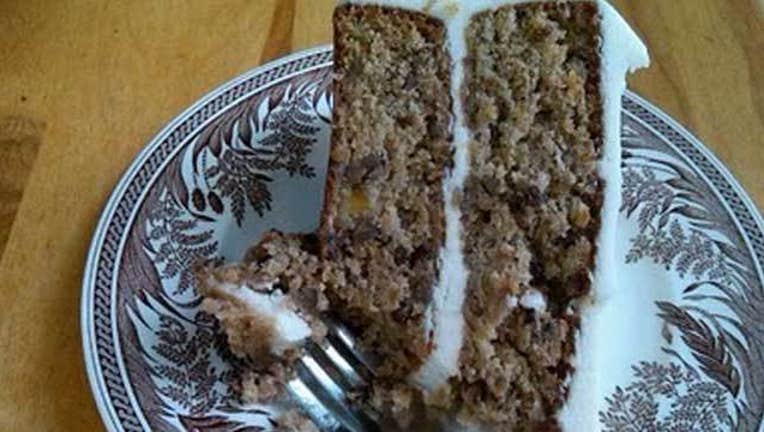 article
I love this cake, it is somewhat reminiscent of carrot cake with a twist. If you aren't from the South, you've probably never heard of it – sometimes I think Southerner's want to keep this treat a secret. I had never had Hummingbird Cake before until I was in Chicago having dinner with my friend Art Smith at his restaurant Table 52 – I knew I wanted this to be my birthday cake. This recipe comes courtesy of Art – full of flavor, not too sweet and studded with pineapple, bananas and toasted pecans.
For the pineapple flowers, if you want to go the extra mile – slice off the outside of a fresh pineapple (try to use a not-ripe pineapple), trying to keep the curve as much as possible. Remove the eyes using a melon baller, then thinly slice rounds of the pineapple – so thin that you try to see the knife going down. Place the slices on a half-sheet pan and bake in a 250 degree oven for 30+ minutes, turning every so often until they are almost dry. I then place them into a muffin pan and back into the oven for another ten minutes so they develop that cup shape. Remove from oven and allow to cool – they will dry out even more. Garnish your dessert and enjoy!
Cake
3 cups flour
2 cups sugar
1 tsp. baking soda
1 tsp. cinnamon
1/2 tsp. salt
2 cups ripe, smashed banana
1 cup crushed pineapple, drained
1 cup canola oil
3 large eggs, beaten
1 1/2 tsp. vanilla bean paste
1 cup chopped pecans
Preheat oven to 350 and prep two 9? round cake pans by lining them with parchment & butter and flouring them or spraying with Bakklene. Place flour, sugar, baking soda, cinnamon and salt into a bowl and using a whisk – stir to sift and aerate. In a separate bowl, mix together banana, pineapple, canola oil, eggs, vanilla-bean paste and pecans until thoroughly combined. Add dry ingredients to wet ingredients and stir to incorporate until it is smooth. Divide evenly between the two cake pans.
Bake for 30-40 minutes, or until a cake tester inserted in the middle comes out clean. Transfer to a wire rack to cool for 30 minutes. Remove from pans and let cool completely on rack right side up. You can place cooled cake layers into the refrigerator to make frosting them easier.
Icing
2 – 8 ounce packages cream cheese, room temperature
1 cup (2 sticks) unsalted butter, room temperature
4 c. powdered sugar
1 tbsp. vanilla bean paste
Place cream cheese and butter into a bowl and mix with an electric mixer to combine. Add powdered sugar and mix on low setting to combine, then add vanilla bean paste and mix until smooth. Set aside. Do not put in refrigerator as it will become too stiff to frost cake.
Put 1/4 cup icing in the middle of cake stand and place first cake layer right side up on top. Spread roughly 2/3 cup icing on top of cake layer. It does not need to look perfect. Place second layer right side down on top of first layer and gently press together. Place remaining icing on top of cake and using an icing spatula, spread icing onto sides and top of cake. Set cake into refrigerator to chill completely – preferably overnight to fully set (this will make it easier to cut). Enjoy!

Celebration Cake Pan
Get it at http://bit.ly/1FZdMZ9