Wild F Marcus Johansson suffers broken arm in 5-2 loss to Golden Knights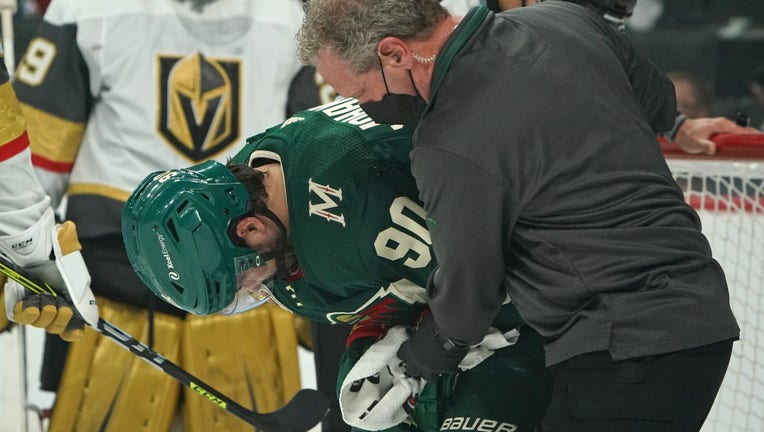 MINNEAPOLIS - Marcus Johansson is likely out for the remainder of the Stanley Cup Playoffs, however long the Minnesota Wild stay in them, after suffering a broken arm during the Wild's 5-2 loss to the Vegas Golden Knights on Thursday.
Wild coach Dean Evason confirmed Johansson's injury on Friday, a day off for the team before Game 4 Saturday night.
"Texted with him here this morning. He's clearly extremely disappointed, but had awesome encouraging words about how we play and how we can play. Big part of our team, he'll be missed," Evason said.
Johansson's injury happened during the first period as he was driving the net, with William Karlsson defending. He crashed into the post, with no penalty called, had to be helped off the ice and didn't return to the bench for the second period.
Johansson played in 36 regular season games, registering 14 points, which includes six goals. He didn't have a point in this series before the injury.
So what will the Wild do to fill his spot? The most logical of choices seems to come down to two names: Zach Parise and Matt Boldy.
Parise has been a healthy scratch for the first three games of the series, and was benched twice earlier this season. Parise has 18 points, including just seven goals, in 45 games this season. He came to the Wild as a free agent before the 2012-13 season, signing a 13-year, $98 million contract alongside defenseman Ryan Suter. He has four years left on that contract.
Boldy, the Wild's 2019 first round draft pick, signed an entry-level contract with the team after his season at Boston College ended. He's been with the Iowa Wild since before being called up earlier this week. In 14 games at Iowa, Boldy has 18 points, including six goals.
Evason says the staff is still in conversations about who will replace Johansson.
"We're going to evaluate and make a decision. All the players that are here and that are available to us are here for a reason. They can play, we brought them here with the opportunity that if people get hurt, that we play them. We feel very good about everybody," Evason said.
It still remains puzzling that Parise, a veteran and assistant captain, has yet to see the ice through three playoff games. Evason said it came down to numbers that he didn't crack the top 12 in the lineup.
"We've had discussions with Zach. It literally came down to we just felt that in the left wings position, that it was numbers," Evason said.
Regardless of the reasons and who is in the lineup Saturday, the Wild need to find a way to win Game 4. They trail in the series 2-1, and a loss Saturday would send them back to Vegas with their season on the line Monday night.
The Wild got off to a hot start Thursday, scoring both goals in the first period. But the Golden Knights dominated the final 40 minutes, scoring five unanswered goals and out-shooting the Wild 36-9 in the process. It was their first regulation loss to the Golden Knights this year.
Evason's focus is on Game 4.
"Things didn't go our way last night, there's tons of positive things we did last night, there's tons of negative things we did. But who cares? We learn from it and we go forward," Evason said.