Wild chasing last playoff spot with 6 games left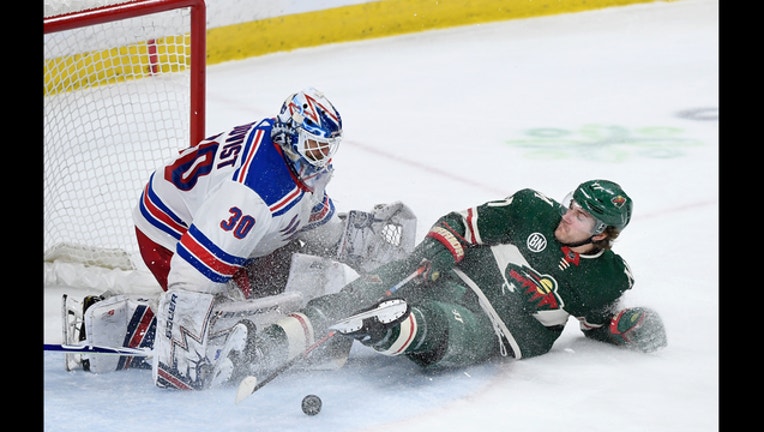 ST PAUL (FOX 9) - The Stanley Cup Playoffs start in about three weeks, but the reality for the Minnesota Wild is it's felt like to postseason for quite some time already.
The Wild is currently two points out of the No. 8 spot in the Western Conference with six regular season games left. They host the Nashville Predators Monday night and need any point they can get to remain in the playoff conversation.
"We need to look at each individual game like it's the biggest game of the year right now, because it truly is. If we lose tonight, we put ourselves in a really, really tough spot," Wild winger Jason Zucker said. "All of us are kind of battling for that spot, so we need to make sure we're making the most of them."
Colorado is currently in the No. 8 spot with 81 points, with the Wild and Arizona right behind at 79 points. The Chicago Blackhawks are on the outside looking in at 76 points.
Of the Wild's last six opponents, five are either likely in the Stanley Cup Playoffs or have already clinched a playoff spot. The only non-playoff team is the Arizona Coyotes, who currently sit in the exact same spot as the Wild.
It's a race to the finish as four teams battle for two spots between Dallas, Colorado, the Wild and Arizona.
"It's a fun time of year to play. This is what we've been talking about for weeks, it's been this way for us basically for the last two months and now it's really getting down to it. We go from one day feeling like we're on top of the world, we lose the next day and don't feel as good," goaltender Devan Dubnyk said. "We've got find a way to get points, regardless of what's happened here we're still one win away from being back in a playoff spot."
If they're going to get to the playoffs, they'll have to do it without their top scorer Zach Parise, at least for the time being. He didn't participate in Monday's morning skate of the Wild's match-up with Nashville. It's not clear when Parise could return. Bruce Boudreau said that's up to the medical staff.
Parise leads the Wild with 26 goals and 59 points.
"As it goes we're not a high-scoring team. You take out your one guy with 26 goals, it makes it a little more difficult," Boudreau said. "It makes it that you have to win the low-scoring games, simple as that."
The Wild need to get points every night, bottom line. With 12 possible points up for grabs between now and the regular season finale at Dallas on April 5, every point matters. Any slip-up could end their season.
"It's fun, it's kind of nervous too. Right now we're out of a playoff spot, two points but it's just two points. That's motivation too, in six games anything can happen and we believe we can do it," winger Kevin Fiala said. "We've got to show up right now and we've got to win some games."
The Wild will be scoreboard watching the next two-plus weeks. That's the nature of the position they've put themselves in, fighting for the last Western Conference playoff spot with six games to go. If they don't find themselves in the postseason, they might be staring at a search for a new head coach and more roster moves.
But while they still sort of control their own playoff destiny, they'll fight for every point they can. That's all they can do, and it's what they have to do. The play has to get better, they're just 3-5-2 in their last 10 games. The Wild is somehow under .500 at home with a 15-16-7 mark at Xcel Energy Center.
The Wild have been to the playoffs six straight seasons, but haven't gotten out of the first round in three straight years.
"It's a fun part of the year. You've got to embrace it and enjoy this and let it grab you and go for it. If you get afraid of it, you're in trouble anyway. We want guys that embrace this challenge," Boudreau said.