Vikings players react to DeFilippo's firing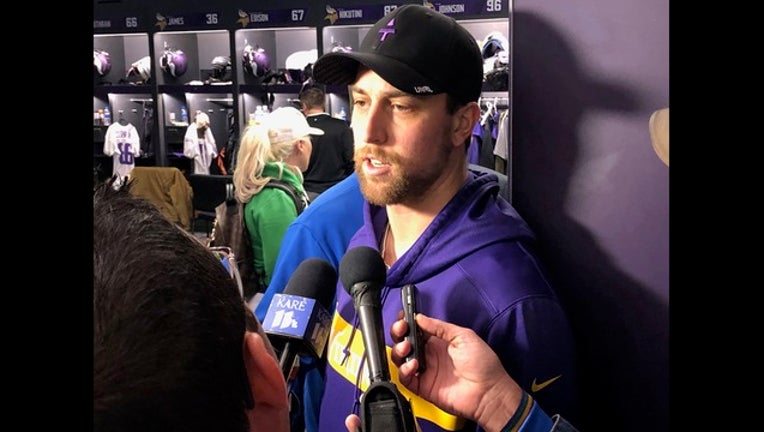 EAGAN, Minn. (FOX 9) - The Minnesota Vikings didn't take advantage of an opportunity to get one step closer to the playoffs Monday night. They have only themselves to blame, and a coach lost his job over the dismal offensive performance.
Now there's a greater sense of urgency in the locker room as the Vikings (6-6-1) get ready to host the Miami Dolphins on Sunday at U.S. Bank Stadium. They have three games left and are likely looking at an NFC Wild Card spot, unless they win out and the Chicago Bears lose their final three games.
John DeFilippo was fired as offensive coordinator on Monday. The Vikings again failed to run the ball consistently at Seattle with 21 carries for just 77 yards. That's 3.6 yards per carry. They're 30th of 32 NFL teams in rushing at 84.7 yards per game. They didn't get to midfield against the Seahawks until the second half, didn't score until 1:10 left in the fourth quarter and didn't capitalize on several opportunities the defense gave them.
"It just sucks, it's sad. I wish as players we could have played better, but at the end of the day we didn't get it done. It was tough news," center Pat Elflein said. "But we've got an important three games now and we have to shift our focus on that."
Along with Elflein, both Adam Thielen and Kirk Cousins spoke about DeFilippo's firing in the locker room on Wednesday.
"It's tough. In this league, you never want to see guys lose their jobs. It's tough to see guys that work their tail off and lose their jobs. But at the same time you're never surprised in this business. This league is all about winning games, that's why we're all here," Thielen said. "Coach Zimmer had to do what he had to do that he thinks is the best interest of this football team and as players, we're going to support that and try to do our best."
"Coach Flip was very classy and very gracious in my conversation with him, which is the way he's always been. I have a lot of respect for him as a coach, I have a lot of respect for him as a person," quarterback Kirk Cousins said. "I believe his best days in this league are ahead of him."
The coaching adjustment for the Vikings offense started Wednesday as Kevin Stefanski had his first team meetings and practice with the offense. He was elevated to interim offensive coordinator after previously being the quarterbacks coach.
Stefanski is the longest-tenured coach with the Vikings, now in his 13th season. In his previous 12 seasons with Minnesota, he's coached the quarterbacks, running backs and tight ends.
Mike Zimmer also interviewed Stefanski for the offensive coordinator job in the offseason before hiring DeFilippo.
"I think he knows us really well. He's been around us a long time and been around this organization a long time. I think he knows in the past what has worked well," Thielen said. "What's encouraging is that he's a guy that a lot of us have confidence in."
Zimmer said Wednesday the change had to be made with three games left because he felt like the offense couldn't keep going in the same direction. He also said there are no guarantees it will work.
"I just felt like this was what we needed to do at this particular time. I didn't feel like we could continue to do what we've been doing the last few weeks and accomplish much," Zimmer said. "It may work, it may not work. You get feelings and you trust your gut."
Emotions can run high when there are coaching changes. Defensive end Everson Griffen, a team captain, said it's important for the locker room to stick together and be a complete unit on game day.
"I feel like this is a team. We lose as a team, we win as a team. There's nothing we can do about it. At the end of the day, it all boils down to us playing together and playing the best game we can play," Griffen said.  
Zimmer knows how important this three-game stretch is, starting with the Dolphins on Sunday. If the Vikings don't make the playoffs a year removed from making the NFC title game, his job might be the next on the line.
The Vikings likely need to win two of their last three against the Dolphins, at Detroit and home against the Chicago Bears to feel safe about a playoff spot.
"There's definitely a sense of urgency. These last three games are very critical and everyone knows it," Elflein said.