Vikings face Panthers Sunday with chance to be 3-3 into bye week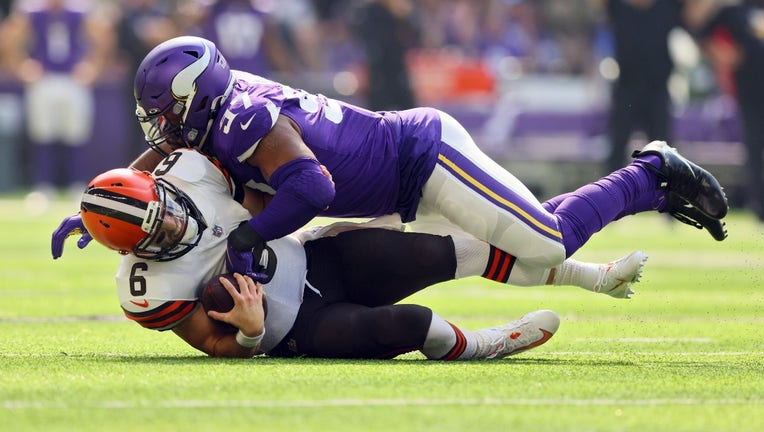 article
MINNEAPOLIS - Minnesota Vikings head coach Mike Zimmer started his weekly Wednesday news conference talking about shots. No, not liquor.
For the first time since training camp, be briefly talked about vaccines.
"Got my booster shot yesterday, my flu shot today. I've got all kinds of liquids in my body. Should be good to go for a little while. One in each arm, I'm good," Zimmer said.
A reporter followed up asking if it included Jagermeister?
"That's later," Zimmer joked.
It's all fun and games coming off a win, but there's still plenty for the Vikings to fix as they prepare for a critical game against the Carolina Panthers before their bye week. Minnesota is 2-3, having lost those three games by a combined 11 points. They were in danger of another close loss on Sunday, before Kirk Cousins led a game-winning drive in 33 seconds that ended in Greg Joseph's walk-off field goal.
The reality for the Vikings is there's a big difference between 3-3, and 2-4 going into the bye week.
"If we can just continue to improve, we'll win our fair share of these games. Just stick with the process, keep doing what we're doing and let's continue to get better at it," Zimmer said.
"That'd be big, just going into the bye week with a win. Just that confidence, just getting it going for the second part of our schedule. We're trying to even the score trying to get back to .500," said running back Dalvin Cook. "To get this thing back even would be a plus for us, coming back from all those disappointing losses."
Cook watched from the sidelines for the second time in three weeks with a bad ankle as the Vikings rallied to beat the Lions. He practiced Wednesday, and his status for the week remains up in the air. In one of the oddest stats of the season, the Vikings are 0-2 with Cook on the field.
VIKINGS COACHES DO SELF-SCOUTING BEFORE BYE WEEK
Mike Zimmer revealed Wednesday he had the coaching staff do lengthy self-scouting on Monday after the Vikings' offensive struggles against the Lions.
Their inability to score points and move the ball in the second half has become a trend. The Vikings don't have a second half offensive touchdown since Week 1 at Cincinnati. In Week 2, the Vikings got a Nick Vigil pick-6 and a Greg Joseph field goal. Week 3 against the Seahawks, it was three Joseph field goals. Week 4, they were shutout after scoring on their opening possession of the game and against the Lions, Joseph made a pair of fourth quarter field goals.
Sunday, the Vikings opted to run the clock out at the end of the first half, rather than try for points with 41 seconds left and two timeouts. The Vikings also ran the ball six times on 2nd-and-8 or longer, and gained 12 yards. Fans spent much of the second half booing the play-calling.
Zimmer said the coaching staff went through every second half possession, down and distance, after penalties and after sacks to diagnose trends. It also included a plan to script their opening offensive plays of the second half going forward.
"I don't know if I've pinpointed it, but we've researched it an awful lot. I gave the coaches a lot of projects to do this week on Monday," Zimmer said. "I just felt like it was important to figure out what's going on."
FIVE STARTERS MISS WEDNESDAY'S PRACTICE
The Vikings began preparations on Wednesday to face the Panthers, but at least five starters did not participate in practice at TCO Performance Center.
Michael Pierce and Anthony Barr did early stretching before leaving the field. Pierce did not play Sunday due to an elbow injury, and Barr played for the first time in 13 months. Everson Griffen, who has four sacks in the last three games, went through stretching but stood and watched individual drills as a resting veteran. Adam Thielen (foot) and Justin Jefferson (ankle) stretched, but weren't practicing. Jefferson had seven catches for 124 yards in Sunday's win. Alexander Mattison (shoulder) also didn't practice Wednesday.
In good injury news, Dalvin Cook and Ihmir Smith-Marsette returned to practice.