Vikings exercise 2020 option on head coach Mike Zimmer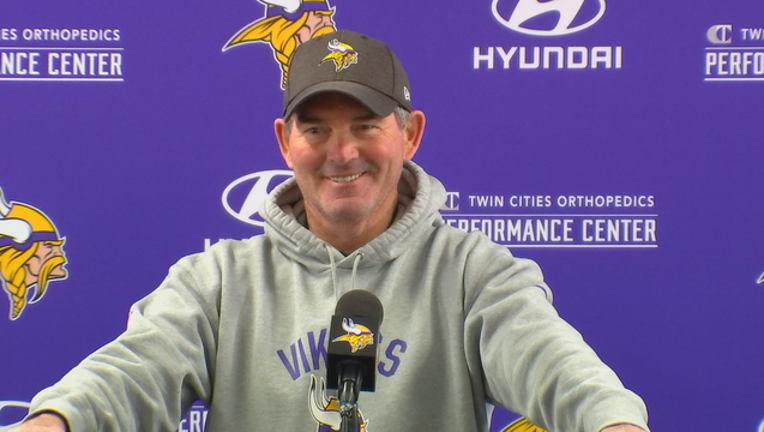 EAGAN, Minn. (FOX 9) - It turns out Mike Zimmer won't be a lame duck head coach in the 2019 season after all.
Minnesota Vikings General Manager Rick Spielman said Wednesday at the NFL Combine that they've exercised an option on Zimmer's contract to keep him in Minnesota through the 2020 season. His contract was previously set to expire after the 2019 season.
Zimmer was potentially on the hot seat after the Vikings finished 2018 8-7-1 to miss the NFC Playoffs for the third time in his five years as head coach. Zimmer, 62, is 47-35-1 as the Vikings' head coach and has led Minnesota to division titles in 2015 and 2017.
"I feel that we've had a very productive offseason to date," Spielman said. "I think Coach Zimmer has done an outstanding job putting together a staff, especially on the offensive side where we had some changes, very excited about the direction of this staff." 
At his season-ending news conference last month, Zimmer said he had no issue with coaching in the final year of his contract.
"Sure, I got no problem with that. Free agent after that, right?" Zimmer quipped.
One reason Spielman is excited for the 2019 season is the changes that Zimmer and company have made to the offensive staff. Kevin Stefanski is a first-time offensive coordinator, and there's not a better mentor to have than Gary Kubiak, who joined the Vikings as an assistant head coach and offensive advisor.
Kubiak has been in seven Super Bowls as a player and/or coach, and most recently was the head coach of the 2105 Broncos that won the Super Bowl. He was the offensive play-caller for that team. He's joined by his son, Klint Kubiak, as the team's quarterbacks coach and Rick Dennison, who will be the run game coordinator.
The Vikings will be looking to improve last year's rushing offense, which ranked No. 30 in the NFL. They'll also be looking for a healthier marriage between the run and pass game, and to get improved play from their $84 million quarterback. Kirk Cousins has had previous success in offenses involving Kubiak.
"Kirk, because of the position and the contract, is going to get a lot of blame. But the blame has to be spread around," Spielman said. "Our season wasn't good enough for our standards last year. Statistically he threw for over 4,000 yards and 30 touchdowns, but we didn't win enough games."
There's still a lot that will shake out roster-wise between the NFL Draft and free agency. But Spielman, who is in the final year of his own contract, said he feels pretty good about the Vikings' chances to bounce back in 2019.
"We're pretty confident we have the pieces in place to be a pretty good football team," Spielman said.
Zimmer will address the media at the NFL combine on Thursday.