Timberwolves: Karl-Anthony Towns returning Wednesday after 52-game absence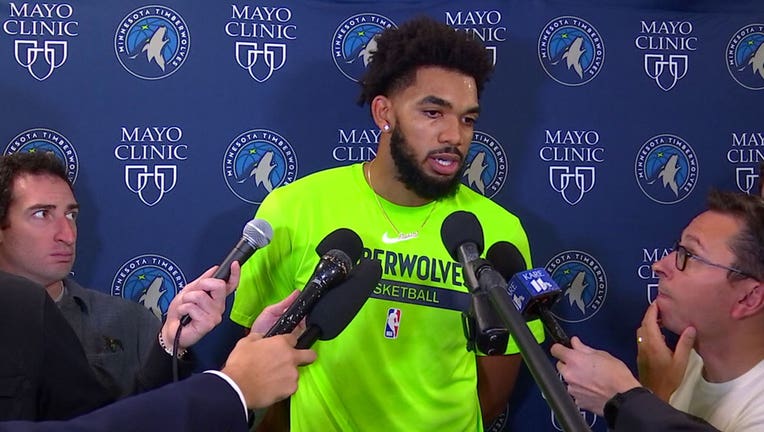 article
MINNEAPOLIS (FOX 9) - For the first time in more than 100 days and 52 games, it appears Minnesota Timberwolves star Karl-Anthony Towns is ready to return.
Timberwolves coach Chris Finch said pregame Towns will play, and the expectation is that he'll be on a minutes restriction. He did not say if Towns will start, or come off the bench.
Towns has been out since suffering a right calf strain in a game at the Washington Wizards on Nov. 28. He has not played a game in nearly four months, and a 113-day absence will come to an end Wednesday night. The original diagnosis, which Towns himself said was not accurate, was for him to be out four to six weeks. It's been nearly four months.
On Tuesday, hints started to come that Towns' return was imminent. He was upgraded from out to questionable on the team's injury report, and Luka Garza was sent down to Iowa.
It could not come at a more crucial time for the Timberwolves, who are in the No. 9 spot in the Western Conference with nine regular season games remaining. At 36-27, The Timberwolves are one game out of the No. 6 spot in the West. That's important, as teams 7-10 at the end of the regular season will have to compete in play-in games to determine the final two spots in the West for the NBA Playoffs.
In the 21 games he's played this season, he's averaging 20.8 points, 8.2 rebounds and 5.2 assists per game.
Last year, the Timberwolves beat the L.A. Clippers in a play-in game to earn the No. 7 seed for the playoffs. They ended up losing in six games to the Memphis Grizzlies.
There's no word on if Anthony Edwards will return to the lineup. Edwards left last Friday's game against the Chicago Bulls with a sprained ankle, and joked with the team equipment manager Monday night that he wanted a jersey against the New York Knicks at Madison Square Garden.
It's a safe bet Towns wanted to make his return on his home court in front of Timberwolves fans, before the team embarks on a three-game road trip. The Timberwolves have three home games left after Wednesday.