Takeaways: Vikings fall to 1-4 after 27-20 loss to Chiefs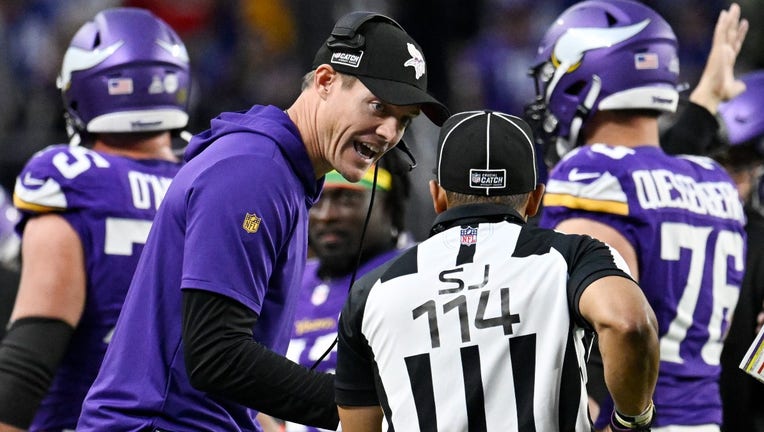 article
MINNEAPOLIS (FOX 9) - The Minnesota Vikings are 1-4 after a 27-20 loss to the Chiefs at U.S. Bank Stadium, and a season of high hopes coming off a division title is starting to slip away.
Not only have the Vikings started by losing four of their first give games, they're 0-3 on their home field. It isn't the start anybody had in mind, but there's still time to turn it around with all six of their NFC North Division games still on the schedule. That said, 161 teams have started 1-4 since 1990. Of those, 11 made the playoffs.
Here are the takeaways from Sunday's loss:
JUSTIN JEFFERSON'S HAMSTRING
The Vikings' fanbase is holding its collective breath as we wait for word on Justin Jefferson's injured right hamstring. Jefferson pulled up after running a route with a little more than 12 minutes to play Sunday, went to the medical tent and spent the rest of the game on the sideline with a towel over his head.
Vikings coach Kevin O'Connell said Monday the injury is still in the evaluation process, but his tone suggested his star receiver will miss some time. He had visions of winning another division and setting new receiving records, but that's all on hold.
"He's down today, he's one the most ultra competitors I've ever met. Shoot, he was trying to go back in the game as it was yesterday. We're going to have to medically make a good decision and help almost protect him from himself," O'Connell said. "We've got to take care of him and get him back to 100 percent."
TURNOVERS CONTINUE TO HAUNT
It literally took the Vikings one offensive play Sunday to lose a turnover. Kirk Cousins hit Josh Oliver for a chunk play, then Oliver fumbled and the Chiefs not only recovered, they turned it into an Isaih Pacheco touchdown. That's three straight games the Vikings have lost a fumble on their opening drive. The Vikings have now committed 12 turnovers in five games, are minus-9 in turnover differential and lead the NFL with eight lost fumbles. They've now lost four games by a combined 20 points.
"Saying something knowing that we've lost to four teams that were in the playoffs last year. That tells you you're a possession away. We've got to stop giving away the football," O'Connell said. "There is nothing more important right now than when a Minnesota Viking has the football in any phase."
WHAT'S WITH ALL THE DROPS?
Cousins didn't get a lot of help Sunday, between getting sacked three times, including on the last play of the game, and drops from his pass catchers. The Vikings had nine drops against the Chiefs, three from T.J. Hockenson. Alexander Mattison dropped a screen pass with five minutes to play that if he catches, it's at least a first down if not a game-tying touchdown.
JORDAN ADDISON'S BIG DAY
Jordan Addison was the bright spot Sunday, with six catches for 64 yards and his third touchdown of the season. It came in the second quarter after the Vikings perfectly executed a fake punt. Cousins said after the game, "Jordan is the real deal. We hit on that draft pick."
Through five games, Addison has 19 catches for 249 yards.
CONTROVERSIAL CALLS
Sunday's loss was not without some drama from the refereeing crew. They likely blew three calls, all in the fourth quarter. O'Connell challenged what was ruled a catch by Travis Kelce for a third-down conversion. Josh Metellus came away with the ball, but Kelce was ruled down with a completed catch. The call stood, even though he never completed the process of the catch before Metellus took it away.
On that same drive, Harrison Smith was flagged for interference on an underthrown pass. It was fourth down, and should've been a turnover on downs. The drive ended with Kelce making a catch uncovered at the goal line for a touchdown.
On a 4th-and-12 with 4:54 to play, Cousins went deep to Addison down the sideline. Trent McDuffie was on the coverage and flagged for pass interference, but after a conference, the referees picked up the flag without an explanation. 
WHAT'S WITH THE DEFENSE?
Brian Flores was supposed to be the miracle worker with the Vikings' defense. But not much has changed in a year, with the Eagles putting up 34 points, the Chargers scoring 28 and Kansas City getting 27 on Sunday. Patrick Mahomes threw for 281 yards and two scores, and the Chiefs were 9-of-15 on third down. The young secondary has struggled, and there's plenty to fix through five games.
They head to Chicago Sunday to face a Bears team that put up 40 points and got big days from Justin Fields and D.J. Moore in a win at Washington.