Shane Bieber strikes out 13, Twins fall to Indians 2-0 at Target Field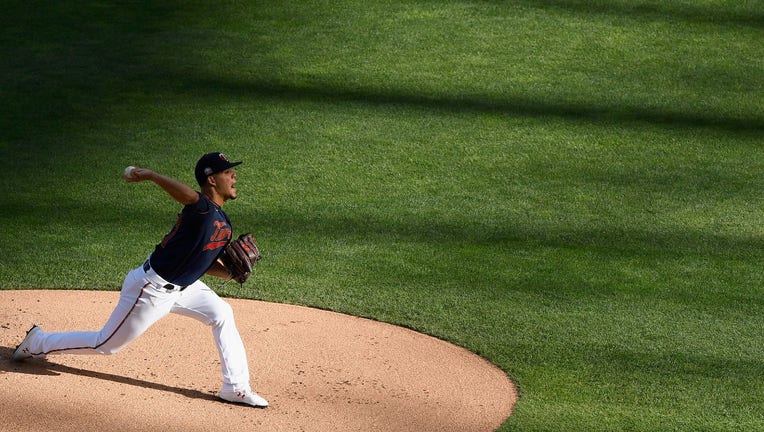 article
MINNEAPOLIS - The Minnesota Twins had no answer for Shane Bieber as they opened a four-game series against the Cleveland Indians Thursday night at Target Field with a 2-0 loss in a game fans could watch on Fox 9.
Bieber finished with 13 strikeouts in eight shutout innings, and the Twins managed just three singles in the loss.
"He was definitely on top of his game. If you were paying any attention, you could see that. He's one of the best young pitchers in the game," Twins manager Rocco Baldelli said after the loss. "He went out there and executed what he wanted to, he was sharp from the very beginning."
Bieber set an American League record with 27 strikeouts in his first two starts, topping Nolan Ryan, and tied a Major League Baseball record set by Karl Spooner in 1954. The Twins' only real threat against Bieber came in the bottom of the sixth. Max Kepler and Byron Buxton singled to put two runners on with one out.
Josh Donaldson struck out, and Jorge Polanco flew out to the warning track in center to end the threat. Donaldson had a tough night offensively, finishing 0-for-4 with three strikeouts against Bieber, who had eight strikeouts through five innings on just 55 pitches. He struck out five his first time through the Twins' order.
The top six hitters in the Twins' lineup Thursday -- Kepler, Donaldson, Polanco, Nelson Cruz, Eddie Rosario and Mitch Garver, went a combined 1-for-21 with 11 strikeouts.
"I'm not trying to give him the Cy Young right now, but in those two starts, elite command with every pitch that he has and he really did a great job of executing," Donaldson said. "I'm looking forward to the challenge the next time it happens."
Jose Berrios lasted five innings in his second start, and made one mistake. In the top of the third, Francisco Lindor launched a two-run homer to right center on a belt-high 0-2 fast ball with two out, giving the Indians the only cushion they would need with Bieber on the mound. It was the first time the Twins had trailed in 29 innings.
Berrios said after the loss he wanted the pitch higher.
"That was my fault, we wanted to try to go up, but it wasn't very good. I left the fast ball right below the line, he got me," Berrios said. "I need to tap my hat and keep on."
Berrios finished with two earned runs on three hits while striking out six on 96 pitches, throwing 57 for strikes.
The Twins drop to 4-2 with the loss, and have a three-game win streak snapped. Thursday's game might have felt a little bit different than most. The Twins and Indians will be the top contenders for the AL Central Division title, and the Twins get seven of their 10 match-ups against Cleveland in the 60-game season at Target Field.
"Every game has a significant amount of importance to it, playing against a division opponent, it obviously has that same feel. We want to win these games, and tonight they were the better team," Donaldson said. "We get to come out here tomorrow and compete again."
Bieber dominated Thursday, and the Twins have to face Mike Clevinger Friday night.