Saunders on last 2 games: 'We have a job to do'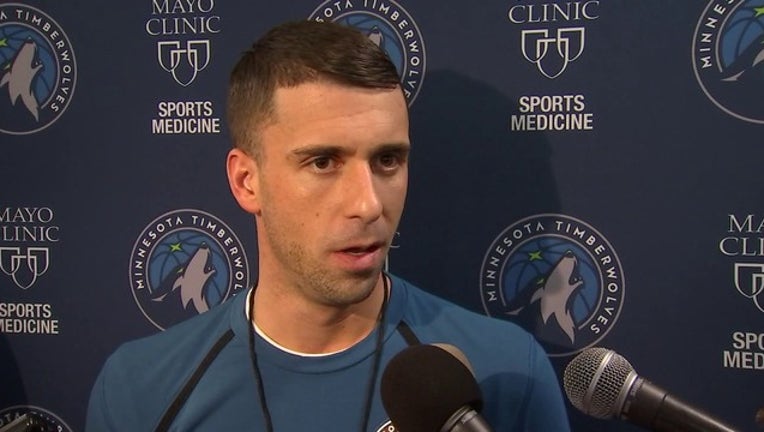 MINNEAPOLIS (FOX 9) - The uncertainty for the Minnesota Timberwolves on what the 2019-20 season could look like will start to take shape as early Thursday.
The Timberwolves finish a tumultuous regular season that's been as up and down as a Six Flags rollercoaster Wednesday night at Denver. Before that, the Wolves finish out their home schedule against the Toronto Raptors at Target Center Tuesday night.
Minnesota has been on the outside looking in when it comes to the NBA playoff picture for some time. The Wolves' season filled with drama ends by playing teams that have not only already clinched playoff spots, but are the likely No. 2 seeds in each conference. It'll be the 14th time in the last 15 years the Timberwolves haven't been a playoff team, but it won't stop them from putting out their best effort.
"Overall the message is that 82 games is 82 games. We have a job to do every time that we're here, and any time we put our Wolves gear on, to work," Timberwolves interim coach Ryan Saunders said after practice Monday. "So that was the message and that's what I expect moving forward."
A main goal for Saunders is to have the interim tag removed from his title. Since taking over after Tom Thibodeau's firing, Saunders is 17-23. The Timberwolves' 36 wins this year, with two games to play, is the second-most Minnesota has had since the 2013-14 season.
Saunders appears to have provided at least some stability and a positive energy after Jimmy Butler's ugly divorce from the Timberwolves that also led to Thibodeau's dismissal. The decision to retain Saunders is one that's up to owner Glen Taylor and other Wolves executives.
He's going to act as the Timberwolves' coach, because he is, until he's told otherwise.
"Whenever I get clarity, I get it. I'm operating as I'm going to do a job until they tell me not to do a job. That's my mindset with things," Saunders said. "It's one of those things whenever I find out, other people make those decisions and I respect those."
He's been able to get the most out of a limited lineup while several players have been out with injuries. He only got four games with Robert Covington, who's missed 36 straight with a bone bruise in his knee. He's also been without Derrick Rose, Jeff Teague, Taj Gibson, Tyus Jones and Luol Deng because of various injuries.
Even Karl-Anthony Towns missed two games out of the NBA All-Star break in the concussion protocol after being involved in a crash with a semi-truck on the way to catch the team plane to New York.
The sentiment among players is that they hope Saunders is back next season as the permanent head coach. Towns said recently Saunders has definitely done enough to earn the job. Dario Saric said he wants Saunders to return.
"I think I would like for that to happen. He was my individual workout guy when he was here and after he became the coach, obviously we had a great relationship. It's my wish if it's possible for Ryan to stay here and be the coach. I think he's the best option for Minnesota," said Saric, who is averaging 10.5 points per game and shooting 37.2 percent from three-point range this season.
Consistency is the biggest issue for the Timberwolves this season, with the last week being a perfect example. They were short-handed in a 131-130 overtime win over the Golden State Warriors on March 29, then lost consecutive games to Portland and Philadelphia. The Wolves won at Dallas last Wednesday and beat Miami at home last Friday before losing to Oklahoma City Sunday night.
Saunders said despite the inconsistent play and injuries, the team chemistry is there and spirits appear to be good in practice.
"I think our players are coming together. It's been evident, especially over the last couple weeks. It's evident during games that we don't have any quit in us, and I think that's a testament to the guys and how they like each other," Saunders said.
If the Timberwolves are seeking stability and chemistry, Saunders seems like the logical choice to stay as coach. Winning consistently also matters, and it's why the decision isn't such a lock.
Tyus Jones earns Flip Saunders Legacy Award
Apple Valley native and Timberwolves guard Tyus Jones shared a nice moment with Ryan Saunders, his mom, Debbie, before the Wolves hosted Oklahoma City Sunday night. Jones received the Flip Saunders Legacy Award, which the team gives out to a player every year who has shown a commitment to community involvement.
Jones has partnerships with the United Heroes League, Best Prep's Cloud Coach and his own group, Write Your Own Story Technology Labs. Jones was selected the winner by his teammates. He's also had his own adversity this year, with his mother recently being diagnosed with cancer.
"It's one of those things I'm just appreciative and my family is appreciative any time my father's name is attached to something like that. It's also one of those things that you appreciate a person that is getting that award because it shows that they're doing a lot of things right in the community," Ryan Saunders said.