Sang Bin Jeong: Loons sign young 'dynamic' South Korean international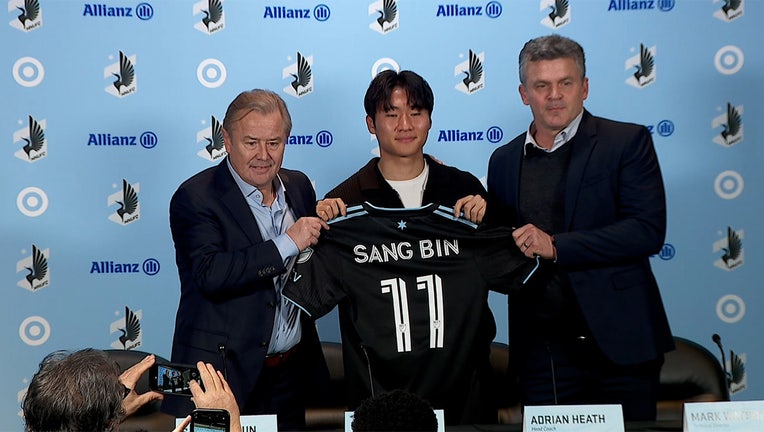 article
ST. PAUL, Minn. (FOX 9) - Minnesota United added a new young attacking talent to their squad: Twenty-year-old South Korean international Sang Bin Jeong.
Jeong joined the Loons via a transfer from English premiere league club Wolverhampton Wanders and signed a three-year contract, with a club option for an additional year, the team announced in a press conference Monday. He's a U22 initiative signing and will occupy an international roster spot. The Pioneer Press reported the transfer fee was $2.6 million. 
Minnesota United Head Coach Adrian Heath said MNUFC scouts had been tracking Jeong, who he called "dynamic," since 2019, when he played for the Korean U17 National Team. 
"Twenty years of age, incredibly athletic, incredibly quick and hard-working. He's really intelligent, has a great football brain and can provide explosiveness in attack – so when you go down the list, he really ticks all the boxes in the type of young and dynamic player we are after," Heath said in a press release. 
Jeremy Rushing, a Loons' analyst for SotaSoccer, said the signing looks like a smart move. 
"Jeong provides much-needed quality and flexibility in the attack for Minnesota, specifically on the wing. It'll be very interesting to see how quickly he can get up to speed and connect with his new teammates and how quickly his impact will be felt in the club," he told FOX 9. 
Jeong most recently played for Grasshoppers Club Zürich in Switzerland, where he was on load from Wolverhampton Wanders. He's scored two goals during the Swiss Super League this season. When he signed for Wolves, Korean soccer analyst Sungmo Lee told a Wolves YouTube channel that Jeong was nicknamed the "Korean Mbappe" in his homeland. 
"That pretty much explains his play style. He's fast, skillful and also importantly, very clever," Lee told the Talking Wolves channel. 
YouTube highlight reels featuring Jeong show him to be an explosive player who is not afraid to run at defenders.  He tends to play out wide but can also play centrally. 
Rushing compared Jeong's signing to Bongokuhle "Bongi" Hlongwane, the 22-year-old South African winger the Loons signed ahead of the 2022 season. He expects Jeong to contribute off the bench behind starting wingers Bongokuhle and the Argentine Franco Fragapane.
"I think ideally he follows a similar path to Bongi's. I think he'll have to earn his way into the squad, considering how Hlongwane and Fraga are playing right now. But, being a spark plug off the bench to start could really benefit Minnesota."