Rockets rout Timberwolves 102-82 in Game 2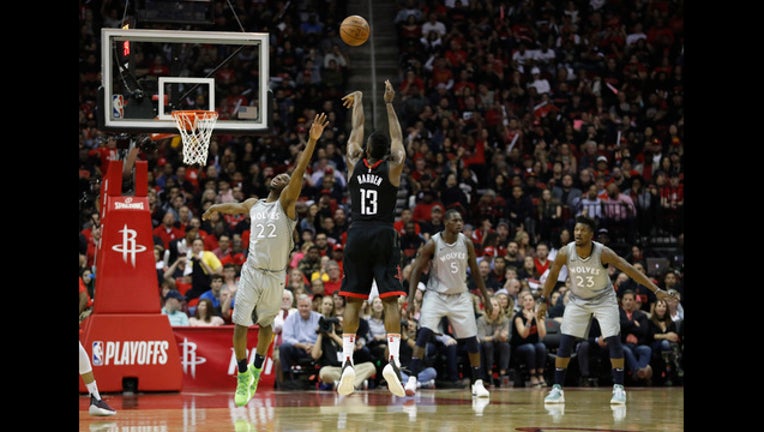 article
HOUSTON (AP) - HOUSTON (AP) - Chris Paul had 27 points and Gerald Green came off the bench to score 21 as the Houston Rockets used a huge second quarter to cruise to a 102-82 win over the Minnesota Timberwolves on Wednesday night that gave them a 2-0 lead in the first-round playoff series.
Houston fell behind early, but went on top for good with a 37-point second quarter, powered by four 3-pointers from Green, and the Wolves didn't threaten again.
The top-seeded Rockets won the opener by three behind a 44-point performance from James Harden on a night when most of the team struggled offensively. Things were much different on Wednesday when Harden had just 12 points as one of four Rockets who finished in double figures.
Minnesota's Karl-Anthony Towns had another disappointing game, scoring all of his five points in the first quarter, after being criticized for finishing with eight in the series opener. The All-Star big man went to the bench with about seven minutes left in the third quarter and didn't return. Jamal Crawford scored 16 points for the eighth-seeded Timberwolves, who are in the playoffs for the first time since 2004.
Harden said Tuesday that he knew Paul would have a big Game 2 after the nine-time All-Star scored 14 points and tied a season high with six turnovers in the first game. Early on, it was clear that Harden was right, as Paul had 15 points, three assists, two steals and a block by halftime.
Paul, who joined the Rockets in an offseason trade from the Clippers, finished with eight assists and three steals.
Houston was up by 22 points with about nine minutes left when Paul made two quick baskets to make it 91-65. The second came on a twirling off-balance layup over Nemanja Bjelica that earned him a standing ovation from the home crowd.
The Rockets were up by 15 at halftime and opened the second half with a 10-2 run to make it 65-42 with about nine minutes left in the third. Harden made his first 3-pointer to get things going after missing all six attempts in the first half, and P.J. Tucker added another one after two free throws by Jimmy Butler.
The Timberwolves had scored seven straight points later in the third when Green, the hometown player who was signed off the street in December, hit his fifth 3-pointer to leave the Rockets up 74-53 with about 2 1/2 minutes left in the quarter.
The Timberwolves led by as many as nine early and the game was tied with about eight minutes left in the second quarter before Houston scored 16 straight points, highlighted by three 3-pointers from Green, to take a 46-30 lead with about 4 1/2 minutes left in the first half.
Minnesota missed six straight shots, including three that were blocked, and had committed two turnovers as the Rockets built the lead.