Okogie sparks Wolves to 121-11 win over Rockets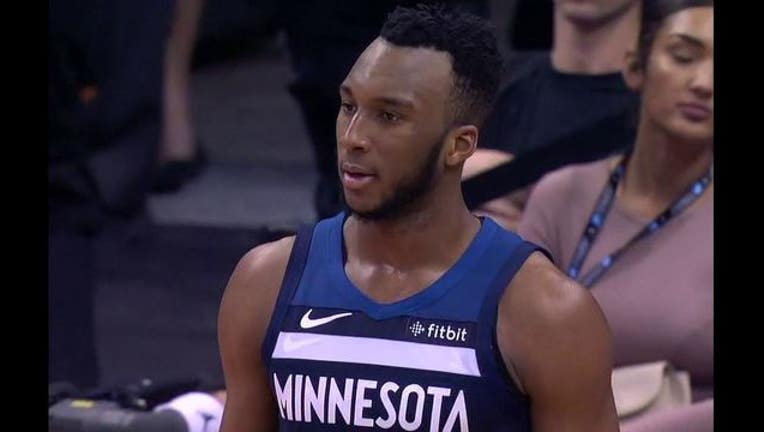 MINNEAPOLIS (FOX 9) - James Harden may have scored 42 points against the Minnesota Timberwolves Wednesday night, but he had to do an awful lot of work to get there.
Harden took 34 shots and scored at least 30 points for the 31st straight game, but it was Josh Okogie's defensive effort and hustle that was the talk after the Timberwolves beat the Houston Rockets 121-111 at Target Center. Interim coach Ryan Saunders threw a variety of defensive looks at arguably the most prolific scorer in the NBA.
With Robert Covington out injured and Andrew Wiggins ill, Okogie shared the Harden duties with Luol Deng, who played 35 minutes. He scored 13 points and grabbed eight rebounds.
The sequence that had everyone talking after and Target Center roaring came with 3:40 left in the third quarter and the Timberwolves up 77-74. Harden went to his patented step-back three-pointer, and Okogie was ready for it.
He blocked Harden's shot, bringing the Target Center faithful to their feet.
"It was big time. It was big time. He read the play. He was just playing out of his mind, especially in the second half. He was playing out of his mind. He made it difficult on him," forward Karl-Anthony Towns said. "Underestimated Josh the whole game, they did, and Josh made them pay for it."
In addition to bringing his energy and defense, Okogie scored 16 points in 32 minutes.
"I told him in the locker room, he really needs to build off of that in terms of growing up. We saw him grow up tonight in a lot of ways, I thought," Saunders said. "In terms of following the game plan and just staying in the moment and not getting outside of himself. You also talk about him…16 points, he hit a couple of big threes and then one turnover too. That was impressive."
The Timberwolves now take a two-game win streak into the NBA All-Star break after going winless on a three-game road trip at Memphis, Orlando and New Orleans. They're 27-30 and four games out of the No. 8 spot in the Western Conference playoffs with 25 games left.
It's a steep hill to climb, but it's not impossible.
"It feels good, but we know that we've got to come back focused. Enjoy the break, but make sure you're doing something. Touch a ball. Do some conditioning. Do something while you're on break," said guard Derrick Rose, who scored 12 points in 22 minutes.
More than anything, the Timberwolves need to get healthy and put a full squad on the court after the All-Star break. But there's no telling when that will actually happen. Covington missed his 20th straight game Wednesday night with a bone bruise in his right knee.
Tyus Jones has missed 13 straight games with a sprained ankle suffered at Philadelphia. Rose played his second straight game after missing six of seven with an ankle injury. Jeff Teague has played in three straight games after missing eight straight games with a foot injury. He scored 27 points and added 12 assists Wednesday.
The Timberwolves come out of the All-Star break with five out of six games on the road. They travel to the New York Knicks and Milwaukee Bucks before hosting the Sacramento Kings for the first three games out of the break.
"It's good. The vibe is very good in here. We're happy. You want to go into the break with a good thought, with the last thought being a good one. We did a great job," Towns said. "ESPN game against one of the best teams and one of the hottest teams in the league. We came out and we played well. We're a family and we're just so happy to see Josh play the way he did tonight."