Gophers fall to Iowa on Senior Day 13-10, lose 8th straight to Hawkeyes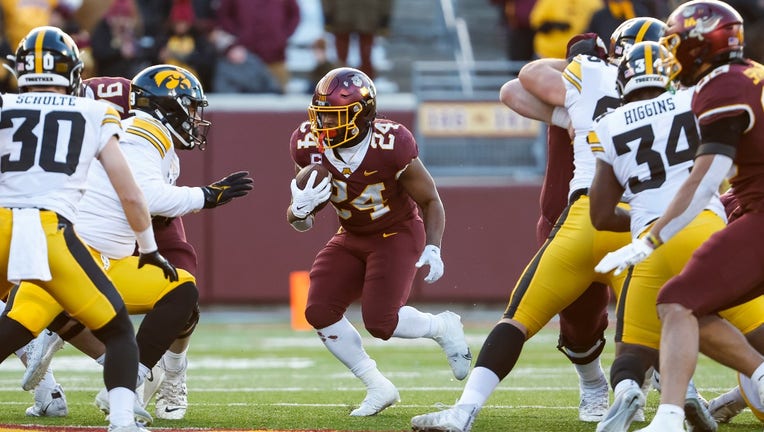 article
MINNEAPOLIS - Floyd of Rosedale is heading back to Iowa City for an eighth straight year after the University of Minnesota football team lost a heartbreaker to the Hawkeyes, 13-10, on a frigid Saturday at Huntington Bank Stadium.
Iowa not only took the prized pig home, they also ended the Gophers' hopes of playing for a Big Ten West title next week. PJ Fleck falls to 0-6 against Kirk Ferentz in another game that was there for the taking if the Gophers executed in the critical moments.
"That locker room is full of winners in there, unfortunately winners do lose. That's all they did tonight, we lost. I told them I don't want anybody hanging their head and pouting, because not one play ever loses you the game. Ever," Fleck said after the loss. "We had our opportunities, didn't take advantage of them."
The Gophers haven't beaten Iowa since 2014, and no current player on the roster has gotten to touch Floyd of Rosedale. That includes the up to 23 seniors who played their final home game on Saturday.
"I think that's always tough, especially for guys that are seniors and their last one. That's one we wanted to get, and obviously you don't like the result," rush end Thomas Rush said. "Not the result we wanted, but just look at the guys and can't help but think about how much you've grown close to them and how much that means to you."
That's despite another historic performance from Mo Ibrahim. On Senior Day for Minnesota, the sixth-year senior had 39 carries for stadium record 263 yards and one touchdown, averaging 6.7 yards per carry. It was his 19th straight 100-yard game, and he scored his 19th touchdown this season. But as it often does with the Iowa defense, the result came down to turnovers. Ibrahim had 14 carries alone on a fourth quarter drive, but fumbled at the Iowa 9-yard line with 5:07 left in regulation, and the Hawkeyes recovered.
"I thought he absolutely played phenomenal. One play will never define how he plays in a game, ever. We wouldn't be anywhere near a program like we are right now if it wasn't for Mohamed Ibrahim," Fleck said. "One play, it happens. Nobody is more disappointed about that play than him. I'd give it to him all over again, no doubt in my mind."
Ibrahim talked about the play after the loss. It was just his fourth fumble in more than 800 career carries. It was also his fifth career 200-yard game.
"I think it was a outside zone. I stretched it, they over-ran it, cut it back and I was like a yard short from the first down. I wanted to fall forward and it popped out," Ibrahim said. "I'm willing to do whatever to help this team win. I let it be known that's a big reason why I came back, I understood what we wanted to accomplish as a team. You always ask me how many carries it takes, it don't matter, I'm going to keep fighting for my team, fighting with my team."
The Gophers got the ball back, but Riley Moss broke up an Athan Kaliakmanis pass intended for Lemeke Brockington that was intercepted by star linebacker Jack Campbell with 2:06 to play. It set up Drew Stevens' game-winning field goal from 21 yards out with 28 seconds left.
"We talked about Iowa doesn't beat themselves, there you go. They force you to beat yourself, we happened to be another victim tonight," Fleck said.
Temperatures hovered in the teens all afternoon, and with winds gusting to around 20 miles per hour, all 23 points in the game were scored when the team with the ball had the wind at its back. The Gophers ran for 312 yards on the day, more than six yards per carry and still lost.
Sixth-year senior Tanner Morgan missed his second straight game with an upper body injury. Kaliakmanis got his third start of the season, and went 7-of-15 passing for 87 yards. Kaliakmanis completed one pass in the second half, with 11 minutes to play in the third quarter. The Gophers had their chances in the fourth quarter with the game tied 10-10, but two turnovers to the Hawkeyes were the difference. 
Quarterback Spencer Petras, who has had an up-and-down season for the Hawkeyes, finished 15-of-22 passing for 221 yards, and a 1-yard rushing touchdown as the Hawkeyes built a 10-0 lead in the first quarter. Nine of his 15 completions went to tight ends Sam LaPorta and Luke Lachey for a combined 172 yards.
The Gophers should've had a 14-10 lead at the half, but Kaliakmanis didn't see an open Brevyn Spann-Ford for what would've been a touchdown late in the half, followed by a 34-yard field goal try from Matthew Trickett that missed wide right.
It was Fleck's best chance yet to beat the Hawkeyes, but Minnesota is still winless in the series since 2014. The Gophers' three-game win streak is over, and they now fall to 7-4 on the season.
The loss also eliminates the Gophers from Big Ten West title conversation. They needed to beat Iowa and Wisconsin, and have Illinois and Purdue each lose one of their final two games. Illinois lost to Michigan on Saturday, but Purdue beat Northwestern.
It's a devastating loss for a program that entered the 2022 season with aspirations of playing for a Big Ten championship in Indianapolis.
The Gophers close out the regular season at Wisconsin next Saturday, and then learn their bowl game destination.