Interim OC Stefanski focused on beating Dolphins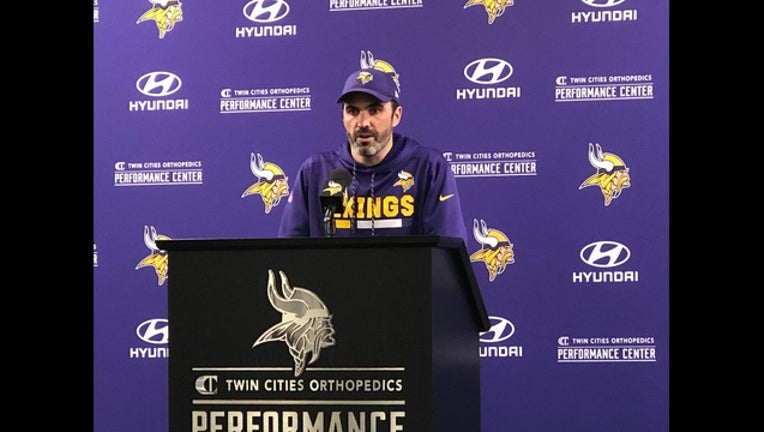 EAGAN, Minn. (FOX 9) - Kevin Stefanski's head was probably still spinning when the Vikings hit the practice field Wednesday, about 24 hours after being promoted within the coaching staff.
Stefanski was named the interim offensive coordinator on Tuesday after John DeFilippo's dismissal. The decision came after a dismal offensive performance at Seattle in which Minnesota's defense gave them every opportunity to win, and get them one step closer to the postseason.
Stefanski had most recently been the Vikings' quarterbacks coach, but now he's in charge of the entire offense. And to increase the sense of urgency, the Vikings are on a short week after having played Monday Night Football.
"I think for all of us it's been a little different obviously and we're working through it. But we're charged with winning a game on Sunday and time doesn't stop for anybody," Stefanski said. "I've been really impressed with our players, I've been really impressed with our assistant coaches. We're charging forward and putting a game plan together."
It isn't completely new territory for Stefanski. He's in his 13th season with the Vikings and is their longest-tenured coach. He's also worked as a tight ends and running backs coach with Minnesota, so he has a finger on a majority of the offense. He also interviewed for the position last offseason before Zimmer hired DeFilippo.
"I think he knows us really well. He's been around us a long time and been around this organization a long time. I think he knows in the past what has worked well," wide receiver Adam Thielen said. "What's encouraging is that he's a guy that a lot of us have confidence in."
The team was forced to face a new reality this week when it was announced DeFilippo was no longer the offensive coordinator.
Head coach Mike Zimmer said earlier this week he didn't want this be a wasted season, and had to make a decision based on the direction the Vikings' offense was headed. Stefanski knows the nature of the business. It's a new opportunity for him, and essentially a three-week job interview.
But the stakes are high, with the Vikings needing likely at least two wins in their last three games to make the NFC Playoffs.
"That's the tough part. These are not ideal circumstances to do this. I'm ready for the challenge," Stefanski said. "I can appreciate coach. He made a decision and it's a short week so we're kind of just rearing to go."
Vikings' offensive players took it a step further, saying if they had played better and been more consistent, we probably wouldn't be talking about a coaching change. But the reality is something did have to change. The Vikings aren't running the ball consistently, the offensive line play has to get better and Cousins needs time to get the ball down field.
The Vikings are currently 30th of 32 teams in the NFL in rushing. It's an offensive unit that's gone through plenty of change. They lost their offensive line coach, Tony Sparano, suddenly before the start of training camp. Stefanski is now the team's third offensive coordinator in four years. Norv Turner resigned two years ago and is now with the Carolina Panthers, and Pat Shumur left after last season to be the head coach of the New York Giants.
The hope is that with Stefanski's experience, the transition should be seamless.
"He's very sharp. He's been here for many years, which is unique in the coaching profession to be here as long as he has," Cousins said. "He's coached a number of positions. He started out playing defense, so he has the perspective of someone from the other side of the football as well as having coached nearly every position on offense. I think he'll do a good job in this role."
"I'm lucky that I have some really good assistant coaches that can help navigate through this. Our goal is just to play well on Sunday and play complementary football for this team and come out here with a win," Stefanski said.
Stefanski said he would be doing the coaches and players a disservice if he did anything other than focus on getting the offense ready to face Miami on Sunday. The Dolphins are 7-6 and, like the Vikings, fighting for their playoff lives.
Zimmer acknowledged the very real chance that the move may not work, but the move had to be made with the position the Vikings were in.
"I just felt like this was what we needed to do at this particular time. I didn't feel like we could continue to do what we've been doing the last few weeks and accomplish much," Zimmer said. "It may work, it may not work. You get feelings and you trust your gut."