Gophers RB Jordan Nubin named Big Ten Offensive Player of the Week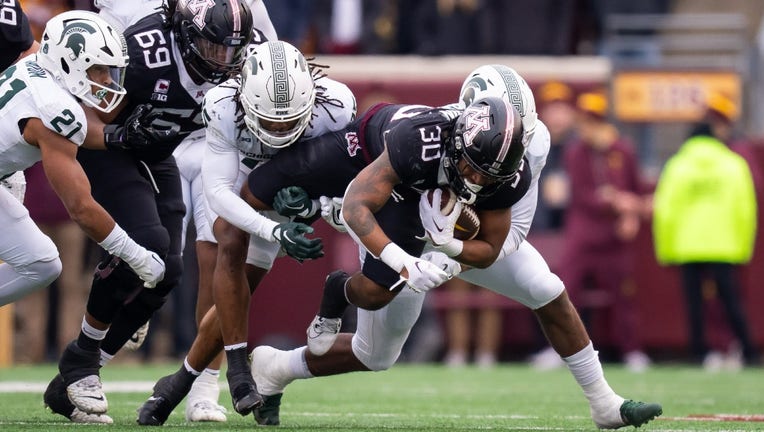 article
MINNEAPOLIS (FOX 9) - All University of Minnesota running backs do is earn weekly awards from the Big Ten Conference.
Gophers redshirt sophomore Jordan Nubin is the Big Ten Offensive Player of the Week. He had 40 carries for 204 yards and two touchdowns in Minnesota's 27-12 win over Michigan State on Saturday at Huntington Bank Stadium.
Nubin came to the Gophers as a walk-on safety. He's now the No. 5 running back on the depth chart, but had his number called as Bryce Williams, Darius Taylor and Zach Evans are all out with injuries. Sean Tyler got the start Saturday, but fumbled on his first carry, allowing Nubin to get his chance.
Nubin's 204 yards rushing were the most by a Gophers' running back since Mo Ibrahim rushed for 263 yards against Iowa in November of 2022. Nubin is the first running back with 40 carries in a game since Ibrahim had 41 against Maryland in October of 2020. Nubin's day marks the 33rd time that a Gophers' running back has gone for at least 200 yards in a game.
Nubin had four carries of at least 10 yards. He had 22 carries for 125 yards and two scores in the fourth quarter. Minnesota ran the ball 19 straight times to end the game.
"What Jordan did in the game doesn't shock me. The amount of carries at the end shocked me, I was like 'He actually carried the ball 40 times?' You're not really worried about the pitch count at that particular point in the game. I thought he handled it really well. Jojo is one of the hardest workers on our team," Gophers coach P.J. Fleck said Monday. "It just shows that no matter what position you're talking about, when you get it, what are you going to do with it? Jojo was ready for his opportunity and when he had it, he ran with it."
He is the first Gopher to be named Big Ten Offensive Player of the Week since Ibrahim on Nov. 21, 2022. Nubin is the third running back this season to earn a Big Ten honor. Taylor earned Big Ten Freshman of the Week three straight times, and Evans made it four straight.
GOPHERS SET FOR 2:30 KICKOFF AT PURDUE NOVEMBER 11
The team announced Monday it will face Purdue in West Lafayette at 2:30 p.m. on Nov. 11, a game that will air on national TV. That will mark the fourth 2:30 kickoff for Minnesota this season. The others were at North Carolina, at Iowa and this past Saturday against Michigan State.
The Gophers are in a four-way tie atop the Big Ten West at 3-2 with four games to play. Purdue is currently 2-5 on the season, 1-4 in the Big Ten West and is at No. 2-ranked Michigan Saturday night. The Boilermakers have lost three straight since beating Illinois.