Gophers have defensive issues to fix after loss at Purdue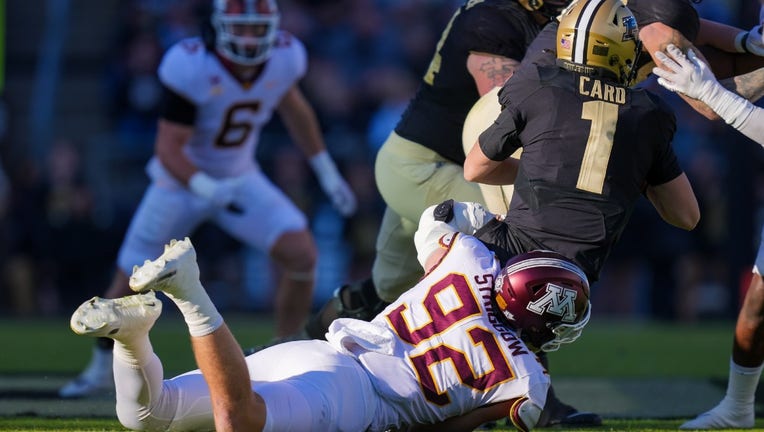 article
MINNEAPOLIS (FOX 9) - P.J. Fleck stood on the sidelines during the University of Minnesota football team's 49-30 loss at Purdue Saturday, and had flashbacks to a 2018 game at Maryland.
That was also a difficult day for the Gophers' defense, a 42-13 loss to the Terrapins in College Park. Maryland piled up 315 of its 432 yards that day on the ground. Ty Johnson and Anthony McFarland accounted for 235 yards and three touchdowns. Fleck joked that safety Jordan Howden, now in the NFL, was likely responsible for three scores in that game.
"He turned out to be all-conference, getting drafted and starting in the NFL. He wouldn't have become the player he was if we didn't invest in him as early as we did," Fleck said Monday.
Fast forward to last Saturday, and the numbers were ugly defensively. The Boilermakers put up 49 points and 604 yards. They ran for 353 yards, and eight yards per attempt. Devin Mockobee and Tyrone Tracy Jr. combined for 275 yards and three touchdowns. The Gophers didn't have Cody Lindenberg, and lost Maverick Baranowski early to injury. That left Tyler Stolksy and Matt Kingsbury as the linebackers.
"We're responsible as a defense, period. It's unfortunate that happened, that falls on me because I make those decisions who goes in game," Fleck said. "When you get down the depth chart a little bit, you're making some really tough decisions."
It's become very clear that the Gophers have missed Lindenberg this season. He missed the first seven games of the season with a leg injury, was on a pitch count against Michigan State and had a team-high 11 tackles and forced a fumble against Illinois.
Without the star linebacker Saturday, Purdue did what it wanted when it had the ball. It's not clear if Lindenberg will be back at Ohio State.
"He's one of the best players in the Big Ten in my opinion. He's doing everything he can to get back, I know that. He's the heartbeat of our defense," Fleck said. "He's the leader of our defense, if there's one guy on this team that we just couldn't lose at the beginning of the year, it was him. Unfortunately that's college football."
DARIUS TAYLOR (NON) UPDATE
Fleck didn't have much of an update on freshman running back Darius Taylor, who missed his third straight game on Saturday. Taylor has not played since getting 16 carries for 59 yards in a win at Iowa. He left that game with an injury and hasn't seen the field since.
Despite playing in just five games this season, Taylor leads the Gophers in rushing with 591 yards and four touchdowns. He was the Big Ten Freshman of the Week three straight times. Fleck said we'll find out on Saturday's injury report if he'll play at Ohio State.
"He's working, doing everything he can to get back. We'll make that official two hours before game time. I should just have a button that says two hours," Fleck said.
OHIO STATE/WISCONSIN KICK TIMES OFFICIAL
The Gophers head to No. 1-ranked Ohio State on Saturday for a 3 p.m. kickoff on Big Ten Network. The team announced Monday it will host Wisconsin in the regular season finale at 2:30 p.m. on Nov. 25 Huntington Bank Stadium. The game will air on Fox Sports 1.
The Gophers are 27.5-point underdogs Saturday. If they lose to the Buckeyes, they're eliminated from Big Ten West title contention and need a win over the Badgers to earn bowl eligibility. Not counting the 3-4 COVID-19 season, the Gophers have not had a losing season under Fleck since his first year, in 2017.