Curry's status uncertain for Gophers Friday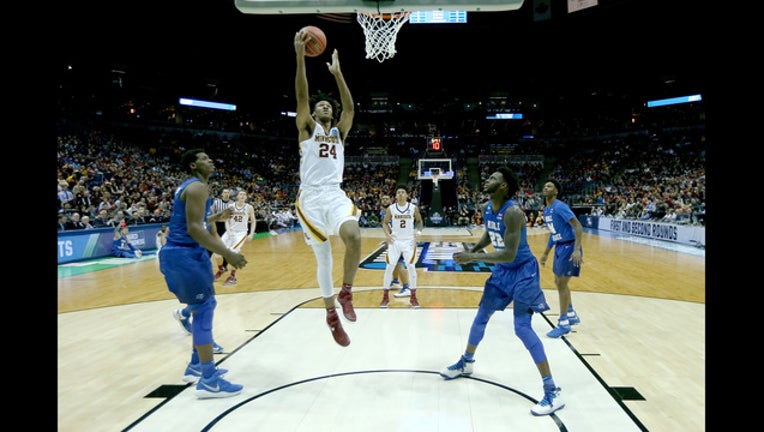 MINNEAPOLIS (FOX 9) - University of Minnesota sophomore forward Eric Curry hasn't played a live basketball game in nearly two years, but that could all change Friday night.
Curry missed all of last season after suffering torn ligaments in his left knee. He was set to make his return this season, but then had to have surgery to clean up cartilage in the knee after starting in a scrimmage at Creighton. Curry has missed the team's first 11 games.
The Gophers (9-2) return from a 10-day break to host North Carolina A&T at Williams Arena. Coach Richard Pitino said Thursday that Curry did some contact work and non-contact work in practice on Wednesday. He also practiced Thursday.
Pitino and team trainers will make a decision on Curry before Friday's game. If he doesn't play Friday, the Gophers have another nine days off before they host Mount St. Mary's.
"I don't know if he'll play Friday. We'll continue to evaluate him and see how he looks. It's important to get him healthy, back on the court, but also in the swing of things and that will take some time," Pitino said.
Curry was a solid contributor off the bench for the Gophers as a freshman, averaging 5.5 points and 5.2 rebounds in nearly 20 minutes per game on a team that finished fourth in the Big 10 and got to the NCAA Tournament.
His teammates say Curry is looking good in practice.
"I think Eric looks really good. Obviously his confidence is still a work in progress and not favoring that leg," senior Jordan Murphy said. "I think he looks good, he looks the same as his freshman year, but obviously better skill-wise."
The Gophers have two non-conference games left before resuming Big 10 play at Wisconsin on Jan. 3. North Carolina A&T comes to Williams Arena Friday night with a 4-7 record. They've played a difficult schedule with Power 5 games against Maryland, Wake Forest and most recently Virginia Tech. One of their four victories came at Mount St. Mary's, who the Gophers will host on Dec. 30 in their final non-conference game.
Between taking final exams and getting ready for the holidays, there has been plenty of time for possible distractions. But the team's focus is on daily improvement.
"Anyone can beat anyone on any given night no matter where they're from, what program they are. We just can't overlook anybody," Murphy said.
Sophomore guard Isaiah Washington missed practice Wednesday due to illness, but was back on the court Thursday and is expected to play Friday. He's coming off scoring 14 points and getting a career-high 13 assists in a win over North Florida. That was one game after playing just six minutes against Arkansas State and not playing in the second half.
Pitino said he wants Washington to continue to get better and focus on what he's good at: Setting up teammates.
"Understand what's going to make you successful and why do you play well. He's clearly a very good passer, so continue to do that. Don't deviate from that," Pitino said.
Friday will also be the first game back for Dupree McBrayer, who didn't play against North Florida to attend his mother's funeral. Pitino and his teammates helped raise about $15,000 to help pay for her funeral expenses, and many attended the service the day after beating North Florida.
McBrayer was at practice Thursday, getting back to the game he loves and enjoying time with his teammates.
"Pree seems like he has more motivation. It seems like he is trying to do it for his family and that's something I really respect. He's approached things just as professionally as before," Murphy said.
If the Gophers win Friday, it will mark the 100th win for Pitino with the Gophers in his sixth season.
The Gophers are off to a 9-2 start despite Curry not having played yet, having McBrayer out for one game and inserting five new players into the rotation. There is still plenty of work to do, though they have quality wins over Nebraska, Washington and Oklahoma State.
"We're just focusing on ourselves. I still think we haven't played our best basketball yet this year," junior Michael Hurt said. "When we put 40 minutes together, that's when we can be a really good team."