Boudreau: 'We're going to make the playoffs'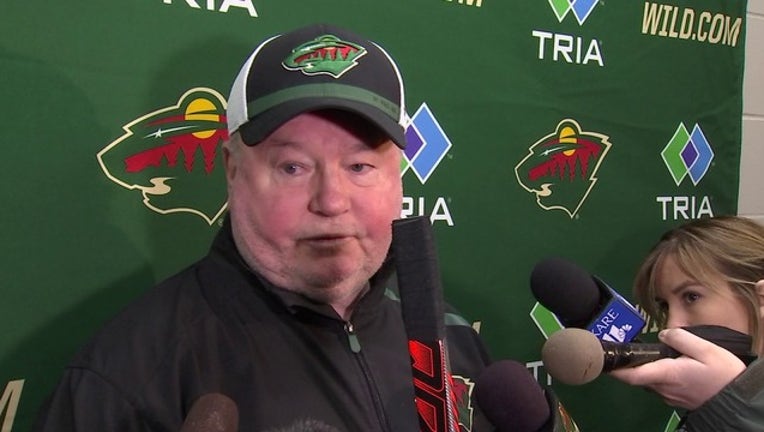 ST PAUL (FOX 9) - "We're going to make the playoffs."
Those were the words of Minnesota Wild coach Bruce Boudreau after his team's practice Thursday, in preparation for Friday's game against the New Jersey Devils. You could call it confident and bold, or wonder if Boudreau trying to convince himself publicly that the Wild is a playoff team.
The Wild certainly haven't played like a postseason team lately. At the very least, they don't have the on-ice results to show for it. The Wild is 1-4-2 since its bye week, and 1-4 since leader and captain Mikko Koivu went down with a knee injury that required surgery and ended his season.
If the Stanley Cup Playoffs were to start today, the Wild would be in the second Wild Card spot in the Western Conference. The Wild has been a playoff team six straight seasons.
"We've made it before. We're on the edge of things being really good rather than being really mediocre," Boudreau said. "I think just looking at their faces after the game the other night, knowing how upset and disappointed they were, I'm saying this is a team that wants it."
The Wild is looking for a win over the Devils Friday after leading the Philadelphia Flyers 3-1, only to lose 5-4. The Flyers scored twice in a nine-minute span in the third period to steal two points from the Wild at Xcel Energy Center.
The Wild is 4-4-2 in its last 10 games, and it's going to be a grind over the last 25 games to determine the eight Western Conference playoff teams. They are currently tied for eighth with Vancouver at 59 points. Colorado and Chicago are just two points back, and Arizona is four points back.
The Wild needs to start stringing together some wins to keep pace with the teams they're looking up at. The Dallas Stars and St. Louis Blues are both four points up at 63, and Las Vegas has the current No. 5 spot at 66 points.
"It's a competitive league every night. It doesn't matter who you're against, and we're no different. We would've liked obviously better results here the last little while but the bottom line is you have to stay with it and believe if you continue to work and continue to do some of the good things that we're doing, you're going to flip it and be on the right side of the Ws," Wild center Eric Staal said.
Staal is fourth on the Wild with 37 points and is the second-leading scorer with 17 goals. It's been an offensive struggle of late, as Staal hasn't scored since getting two goals in a win over Colorado on Jan. 23. He returned from the team's bye week with an assist at Dallas.
After Friday's game against the Devils, the Wild's home stand continues against St. Louis Sunday afternoon and Anaheim Tuesday night. The Blues are one of the hottest teams in the NHL, winning nine of their past 10 games. The Ducks are in slide, having gone just 3-7 in their last 10 games.
The Devils are 5-5 in their last 10 games, and are 7-19-3 on the road this season.
Playing at Xcel Energy Center has been no guarantee for the Wild this season. They're 13-11-4 on home ice.
"Every game is important right now and we believe in each other that we can do something, and that's kind of our mindset going into every night," center Luke Kunin said.
Kunin is making the most of his recent call-up from Iowa to St. Paul. He's tallied at least one point in four of the five games since his Feb. 5 arrival. He had two assists in the shootout loss to Buffalo, scored in a win at New Jersey and scored twice in Tuesday's loss to the Flyers.
He's also seeing more ice time as a result, having played at least 15 minutes in five straight games.
"You're always trying to show you belong and get a spot and keep that spot. Every day working to stay here and be better and help this team win," Kunin said. "I think that's kind of the mindset we've had, and just kind of one day at a time."
The Wild need to get on a roll, and it needs to happen soon. Four of their next five games, starting Friday against New Jersey, are against current non-playoff teams.
"It's not going in often enough or we're not keeping it out often enough. But that's going to turn and we're going to make the playoffs," Boudreau said.