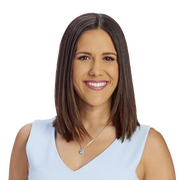 Courtney Godfrey
Reporter
A perpetual truth seeker, Courtney is always asking questions and looking to pull back the curtain.
While you'll find Courtney on the front lines of breaking news, she also enjoys long-form investigative work and heart warming profiles. Most notably in 2019, through a series of public records requests, Courtney revealed how an off-duty sheriff's detective used his seniority and experience to evade arrest after a night of drinking resulted in a serious car crash. In 2017, her reporting on a law breaking bail bondsman resulted in the state revoking his license.
When she's not working, Courtney is passionate about giving back to the Twin Cities community through volunteering. She serves on the board of amputee non-profit Wiggle Your Toes, and makes frequent hospital visits to new amputees. When time allows it, she loves to speak to Twin Cities school children and share her story of resilience and give them tools for adapting to change.
Courtney grew up in the San Francisco Bay Area, and is a graduate of the University of Arizona. She also holds a Masters of Mass Communication from the Walter Cronkite School of Journalism at Arizona State University.
Courtney lives in Minneapolis with her husband Ryan and their beloved dog Bruno. They are patiently awaiting the arrival of their first child, due in Fall 2019.
The latest from Courtney Godfrey
Memorial Day weekend was a slow start for Minnesota resorts, as many reported lower than usual occupancy.
The Minnesota National Guard says the number of people who showed up for free COVID-19 testing over the weekend far exceeded their expectations.
A historic number of donations are coming into Twin Cities metro Salvation Army stores as people clean out and organize their homes during the stay-at-home order.
With people starting to socially gather, here's what a doctor says is high and low-risk behavior.  
For the first time in months, retailers in Minnesota were allowed to reopen doors to customers at half capacity.
Monday marks the end of a long and painful wait for small retailers as the Governor's new order allows some of them to open at 50 percent capacity.
It's been nearly 60 days since CrossFit Calypso in Farmington has had any members in their gym. While the governor is lifting his stay-at-home order Sunday night, gyms are among the businesses he says must remain closed until June 1.
The Minneapolis School Board met virtually Tuesday evening to hear comments about a proposal that will change where some students in Minneapolis attend class before members approved the redistricting plan on a 6-3 vote. 
There will be no graduation ceremonies for Minnesota schools and universities leaving most high school seniors crushed.