Waffle House Hero: Man credited with saving lives in deadly shooting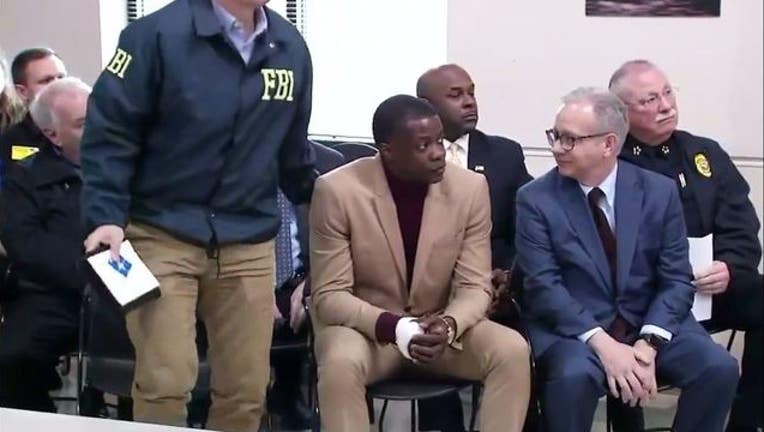 article
NASHVILLE, Tenn. (AP) - A gunman wearing nothing but a green jacket and brandishing an assault rifle stormed a Waffle House restaurant in Nashville and shot four people to death before dawn Sunday, according to police, who credited a customer - James Shaw, Jr. - with saving lives by wresting the assailant's weapon away.
The gunman shot people in the parking lot before entering the restaurant, where he continued firing until a Shaw grabbed the rifle, Nashville Police spokesman Don Aaron said. Four people were also wounded before the gunman fled, shedding his jacket.
Shaw spoke in a news conference saying, ""He shot through that door; I'm pretty sure he grazed my arm. At that time I made up my mind ... that he was going to have to work to kill me. When the gun jammed or whatever happened, I hit him with the swivel door," he said. 
Authorities said they were searching for the suspect, 29-year-old Travis Reinking, and that they were drafting murder warrants for him. Nashville police tweeted that the pickup truck the gunman drove to the restaurant was registered to Reinking.
Witness Chuck Cordero told The Tennessean newspaper he had stopped to get a cup of coffee and was outside the restaurant when the chaos unfolded around 3:25 a.m.
"He did not say anything," Cordero said of the gunman, who he described as "all business."
Cordero said Shaw saved lives by wrestling the weapon away. "Had that guy had a chance to reload his weapon, there was plenty more people in that restaurant," he said.
Shaw told the Tennessean in an interview that he was "just trying to get myself out. I saw the opportunity and pretty much took it."
The newspaper reported that Shaw was grazed by a bullet, treated and released.
"When I was in the ambulance to hospital I kept thinking that I'm going to wake up and it's not going to be real," Shaw said. "It is something out a movie. I'm OK though, but I hate that it happened."
Aaron, the police spokesman, said three people died at the restaurant and one person died at Vanderbilt University Medical Center, where two others were being treated for gunshot wounds. Medical Center spokeswoman Jennifer Wetzel said one was in critical condition and the other was in critical but stable condition.
TriStar Southern Hills Medical Center spokeswoman Katie Radel in Nashville said two people were treated for minor injuries and released.
Aaron said the gunman arrived at the restaurant and waited in the parking lot for four minutes before shooting two people outside.
At some point after the gunman entered, Shaw grabbed his rifle and tossed it over a counter, Aaron said. The gunman then fled and was seen walking, nude, on a road, authorities said.
Police were still searching for him amid a steady rain more than 10 hours after the shooting.
Aaron said Reinking lived near the restaurant in the working- and middle-class Antioch neighborhood of southeast Nashville, and police used yellow crime scene tape to block public access to an apartment complex about a half-mile from the Waffle House.
Reinking is originally from Morton, Illinois, and was known to both Illinois and federal law enforcement, Aaron said.
The victims' names weren't immediately released.
Police initially described Reinking as a person of interest, but Aaron later told reporters authorities were searching for "a gunman we fully believe to be Travis Reinking."
"I think it's safe to say that person of interest and suspect in this matter is synonymous," he said.
"This is a very sad day for the Waffle House family," the company said in a statement on Twitter. "We ask for everyone to keep the victims and their families in their thoughts and prayers."
Nashville Mayor David Briley described the shooting as "a tragic day" for the city.
"My heart goes out to the families & friends of every person who was killed or wounded," Briley said in an emailed statement. "I know all of their lives will be forever changed by this devastating crime."
U.S. Rep. Jim Cooper, whose district includes Nashville, said in an emailed statement that the shooting shows the need for tighter restrictions on "widespread civilian access to military-grade assault weapons."
Tennessee Gov. Bill Haslam said he and his wife, Crissy, "are deeply saddened by the tragic incident in Antioch early this morning, and we mourn the lives taken in this senseless act of violence."
___
Associated Press writers John Raby in Charleston, West Virginia, and Justin Pritchard in Los Angeles contributed to this report.