'Victory is when police are actually charged' for Jamar Clark's death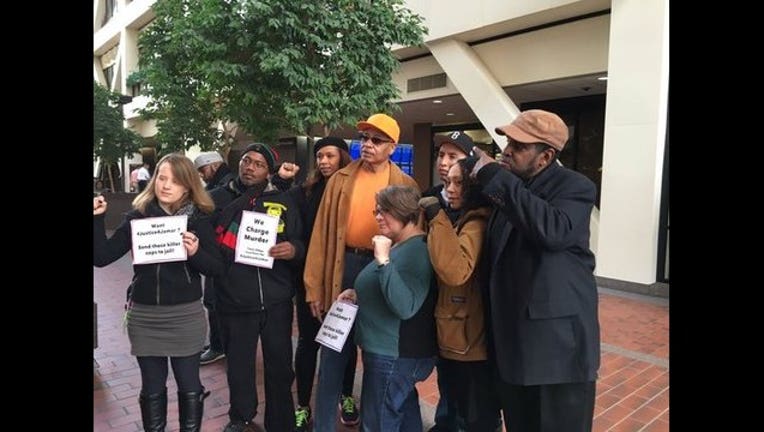 MINNEAPOLIS (KMSP) - It was a surprise twist in the Jamar Clark case when Hennepin County Attorney Mike Freeman announced Wednesday he won't use a grand jury to decide whether or not to indict the two Minneapolis police officers who shot and killed Clark.
Thursday afternoon, Clark's father and the Twin Cities Coalition for Justice for Jamar addressed Freeman's decision. They believe the chances for the officers to be indicted are better if Freeman makes the decision himself, but the group said that's no real victory -- it's not near enough.
"It's been a hard battle and we just want the truth," James Clark said. "We're tired of all this kicking stuff under the rug just because it's a black person."
READ THIS NEXT - No grand jury in Jamar Clark case, prosecutor says 'this is my job'
James Clark stood with the Twin Cities Coalition for Justice for Jamar. It's the group that makes visits to Freeman's office every Friday, demanding direct prosecution -- and they have no plans to stop.
"Victory is when police are actually charged with the crimes committed against Jamar Clark," said Jodie Carroll. "Second-degree murder or manslaughter. Ultimate victory would be a conviction."
The group says this case isn't difficult. Despite the fact the police union has said Clark was reaching for an officer's gun, group members say witnesses they've spoken to say that's not true.
"We have eyewitness evidence," Carroll said. "Lots of it."
It appears the plan to pressure Freeman will ramp up in the coming weeks as the county attorney decides whether to indict the officers. Rally plans are in the works and a community meeting is called for Saturday. Freeman has said he will make the decision whether to prosecute the officers in the next couple of weeks.