Two men charged in fatal St. Paul shooting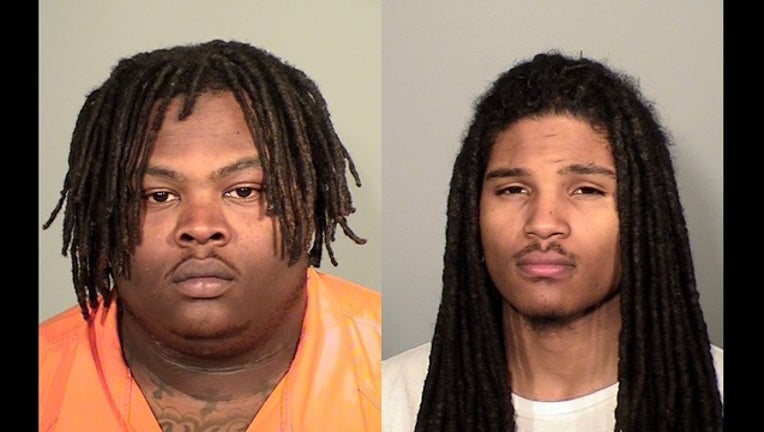 article
ST. PAUL, Minn. (KMSP) - Two men are now charged with second degree murder in connection to a deadly shooting at Fuller Avenue and St Albans Street in St. Paul.
23-year-old Silk Lesure and 20-year-old Matthew Michael Garland, both of St. Paul, each face up to 40 years in prison.
According to the criminal complaint, around 2:17 p.m. on April 17, Garland shot 25-year-old Rondell Quantrell Dunn several times on the sidewalk on Fuller. As Garland ran away, his red Polo hat fell off his head. Surveillance video captured the shooting.
Emergency crews took Dunn to the hospital, where he later died.
Witnesses told police they saw a gold vehicle leaving the scene, driving off on Dale Street. One witness described the driver as an out of shape, black man.
Around 2:23 p.m., a woman reported she was rear-ended by a gold SUV on Dale Street. Before the SUV drove away, she got the license plate and saw there were two people in vehicle.
Officers tracked down the SUV and arrested Lesure. While interviewing him, they learned Lesure had been driving the gold SUV that afternoon in the metro, but he denied being in the area of the shooting.
Six days before the shooting, surveillance video at a gas station captured Garland and Lesure getting out of a gold Saturn Vue to watch a fight. At the time, Garland was wearing a red Polo hat.
A DNA test of the hat left at the shooting revealed a mixture of four or more people, which likely included Garland.
Lesure will make his first appearance on Monday afternoon in Ramsey County Court.
Garland is currently being held in Illinois, awaiting extradition to Minnesota.
Ramsey County Attorney John Choi statement:
"We will do everything in our power to obtain justice in this case. I want to thank the Saint Paul police investigators for their diligent work in bringing those responsible into custody."
FIRST REPORT: Fatal shooting at Fuller and St. Albans in St. Paul