Timeline for the bitter blast in the Twin Cities metro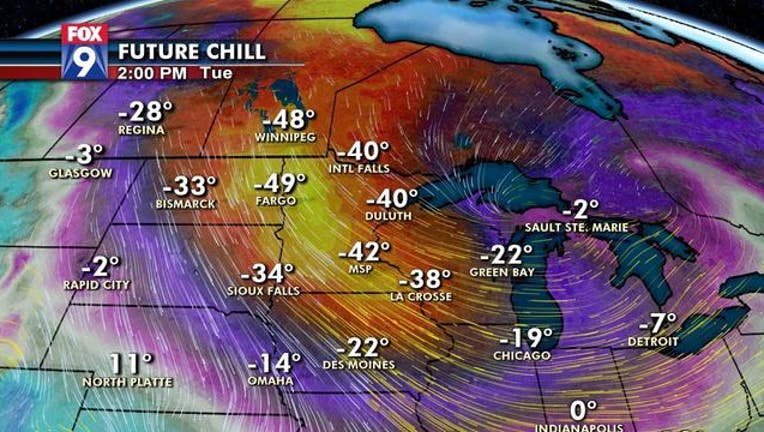 EDEN PRAIRIE, Minn. (FOX 9) - This week, the Twin Cities metro will be getting hit with a bitter blast of dangerously cold temperatures.
Monday got off to a chilly start, but the numbers are going to plummet throughout the day on Tuesday with a wind chill expected to reach -45 degrees Tuesday evening. The temperatures Wednesday and Thursday morning are predicted to set or tie record lows. 
At these temperatures, frostbite can occur in five minutes. Many school districts are canceling classes on both Tuesday and Wednesday this week.
Here's a general timeline of the next few days:
- Tuesday AM        -12 actual   -28 wind chill
- Tuesday PM        -20 actual   -45 wind chill
- Wednesday AM   -30 actual*  -55 wind chill
- Wednesday PM   -16 actual   -37 wind chill
- Thursday AM       -29 actual*  -41 wind chill
- Thursday PM       -3 actual     -12 wind chill
*denotes record-setting temperature
Stay updated on Minnesota weather by downloading the FOX 9 Weather app.