Thomas Rhett stops Nashville concert to pray for fan in medical emergency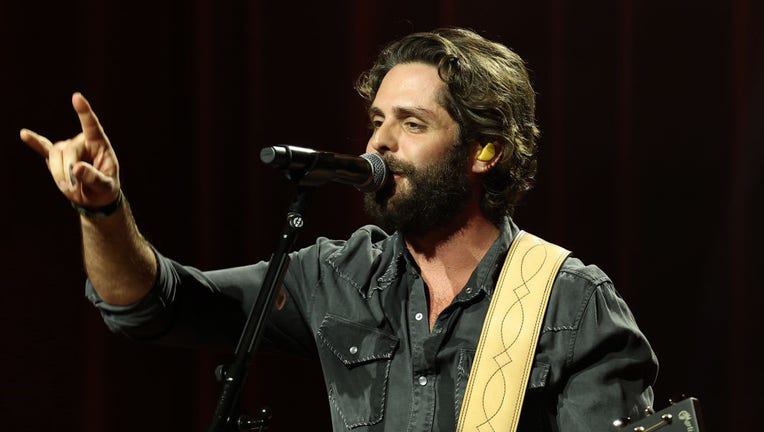 article
NASHVILLE - While performing his concert at Bridgestone Arena in Nashville, Tennessee, this weekend, country singer Thomas Rhett was alerted to a situation in the crowd. 
A fan was suffering a medical emergency, prompting immediate concern from Rhett and his team.
In video obtained by Fox News Digital, the country star had just finished singing when he recognized there was something wrong.
KATY PERRY, THOMAS RHETT TEAM UP FOR CMAS PERFORMANCE: 'THE DUO I DIDN'T KNOW I NEEDED'
"Hey, there's somebody down here, who's like, really hurt," he announced into his microphone. Rhett, 33, then asked if there were any medical personnel in the audience. 
Rhett stopped his concert for several minutes, as medics attended to the person in distress and carried him out of the venue.
Additional video shows Rhett asking those around him for the man's name, which he later learns is Terry.
More video showed Rhett bowing his head and hanging his legs off the edge of the stage, as he prepared to lead his audience in prayer.
"Father God, we just ask for healing over Terry. We know that you are the ultimate physician. We know that you are the ultimate healer… Pray for Terry's family right now, cause [they're] pretty scared for Terry – who's very scared," the "Angels" singer began.
"God, we know that you are a miracle worker. We just pray over Terry and his family right now. We ask that everybody in this room, after they leave tonight, will continue to pray for Terry and his family."
"We love you, we thank you for Jesus. We pray this in His name, Amen," he concluded, as fans began to cheer.
The singer provided fans with an update after the show in a post to social media.
"I'm thankful to report that Terry, who needed medical attention at last night's show in Nashville, is home and doing well. He and his family appreciate all the prayers! Love y'all so much," he wrote to X, formerly known as Twitter. 
No more information on the individual is known.
CLICK HERE TO GET THE FOX NEWS APP
Rhett's next show will be in Miami next month.
Read more of this story from FOX News.