Theater tickets from night Abraham Lincoln was shot sold for over $250K at auction
A pair of front-row tickets from the theater performance that President Abraham Lincoln was watching when he was shot in 1865 were just sold at auction. 
The pair of tickets were sold through a Remarkable Rarities sale by Boston-based RR Auction.
They went for $262,500 to one lucky winner. This was the second time this set of tickets had been put up for auction.
THEATER TICKETS FROM THE NIGHT ABRAHAM LINCOLN WAS SHOT ARE UP FOR AUCTION, EXPECTED TO GO FOR $100,000
The winner who bought the front-row tickets for the April 14, 1865, show wishes to remain anonymous, according to RR Auction.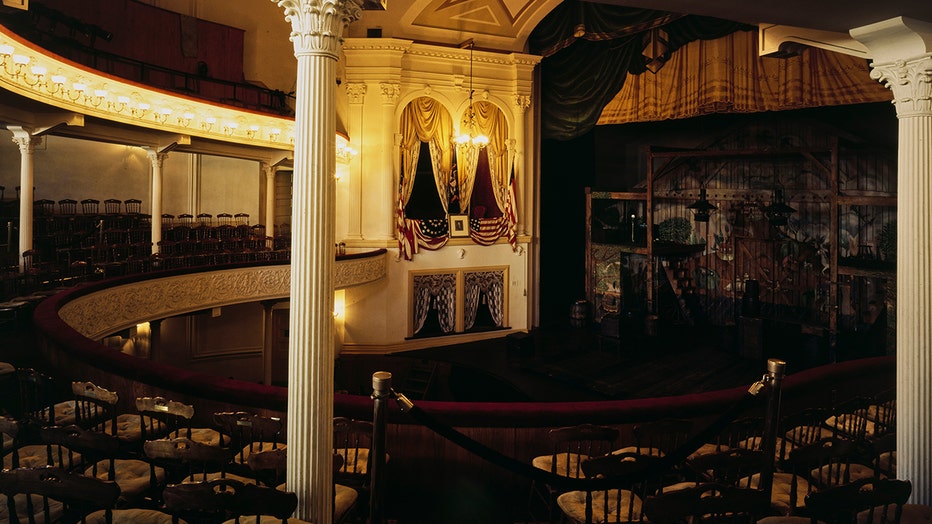 Interior view of Ford's Theatre, the presidential box being draped in two American flags, in Washington, DC circa 1975. The theatre was the site of the assassination of Abraham Lincoln, who was shot by John Wilkes Booth during a performance of 'Our A
President Lincoln was shot at Ford's Theatre in Washington, D.C., while he was attending a performance of "Our American Cousin," according to the Library of Congress. 
He died the next day. 
The performance would forever be known as the show Lincoln was viewing when he was assassinated. 
SURPRISE LETTER WRITTEN BY ABRAHAM LINCOLN DURING CIVIL WAR IS RECOVERED FOR FIRST TIME, UP FOR SALE
The stubs on the now-sold tickets were stamped with the wording "Ford's Theatre, APR 14, 1865, This Night Only," as a spokesperson for RR Auction told Fox News Digital ahead of the sale. 
The spokesperson also said the right side of the tickets were clipped, which signified that they were presented for admission at the theater. 
Photos of tickets sold at auction. (Credit: RR Auction)
The only other tickets known to still exist from that night are currently housed at Harvard University's Houghton Library. 
The now-sold tickets were also auctioned off in 2002 when they sold for over $83,000, according to Christie's Auction. 
ON THIS DAY IN HISTORY, NOV. 21, 1864, ABRAHAM LINCOLN 'PENS' LETTER TO MRS. BIXBY
RR Auction executive vice president Bobby Livingston told Fox News Digital that these tickets are an important time stamp in history. 
"We are confident that there is not another 19th-century event as important to ticket collectors as the performance of 'Our American Cousin' on April 14, 1865," he said. 
RELATED: Vintage Apple-1 computer for sale at auction
He said in a media statement that the tickets' positioning meant they were facing Lincoln's box in the theater. 
"This pair of front-row Ford's Theatre tickets, which were facing Lincoln's box, allowed the original theatergoers to witness America's most tragic performance," he said. 
Lincoln was shot by actor John Wilkes Booth, who entered the presidential box and fired a shot into the president's head, according to the Ford's Theatre website. 
CLICK HERE TO SIGN UP FOR OUR LIFESTYLE NEWSLETTER
The bullet hit his left ear and went behind his right eye, according to the Library of Congress. 
The president was transported across the street to the Petersen boarding house.
He died the next day, on April 15, 1865, according to the Ford's Theatre website. 
CLICK HERE TO GET THE FOX NEWS APP
Christine Rousselle of Fox News Digital contributed reporting.