T-Wolves Gaming, the franchise's new NBA 2K League team, acquires first two players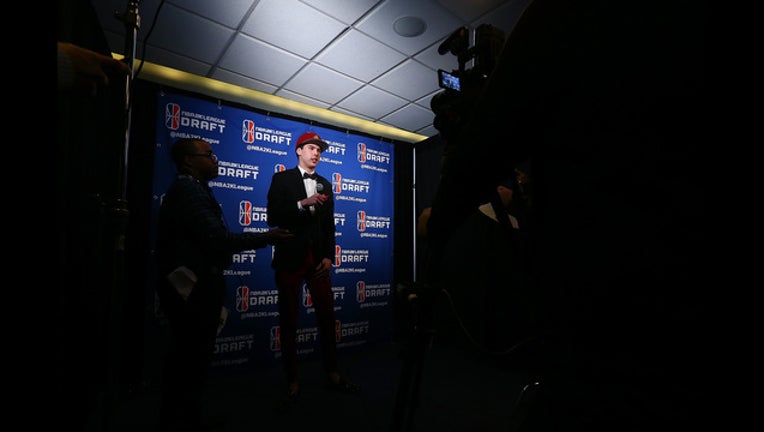 MINNEAPOLIS, Minn. (KMSP) - As the Minnesota Timberwolves players start pre-season training camp this week, two more Wolves were acquired for a different kind of game.
Thursday, in the first ever NBA 2K League Expansion Draft, T-Wolves Gaming selected its first two players to compete with the organization's NBA 2K League team.
The NBA 2K League, which launched last year, has gamers compete as unique characters in 5-on-5 play against the other teams in a mix of regular-season games, in-season tournaments and playoffs. The Minnesota team was announced Aug. 15 and will compete beginning with the 2019 season. There are now 21 teams in the NBA 2K League.
The T-Wolves Gaming team chose Timothy "oLARRY" Anselimo as the third overall selection in the draft and Mihad "I F E A S T" Feratovic was the sixth pick. T-Wolves Gaming turned around and traded the rights to oLARRY to the Cavs Legion GC team in exchange for Brandon "Hood" Caicedo.
"Last night was an exciting night for our T-Wolves Gaming franchise," said Timberwolves and Lynx CEO Ethan Casson. "In acquiring Hood and drafting I F E A S T, we secured to cornerstone players for our team, both of whom we had our sights set on as we went through the draft process. We're excited to engage the avid esports audience in Minnesota and Timberwolves fans around the world as we move forward and build our T-Wolves Gaming brand."
Hood is listed as a 6-5 point guard that averaged 29.2 points, 5.5 rebounds, 5.9 assists and 2.4 steals per game last season with Cavs Legion GC. He was third in the league in scoring last season and fifth in steals.
"I'm super excited to join T-Wolves Gaming," Hood said. "I'm thrilled at the opportunity to lead a franchise and look forward to getting to Minneapolis soon with my teammates. I'm really excited to play with I F E A S T. He was a big part of a successful 76ers GC squad last season and he'll be a big part of our team moving forward."
I F E A S T is listed as a 6-11 power forward that posted averages of 11.2 points, 6.2 rebounds and 2.5 assists during last season with 76ers GC.
"On draft night I was incredibly humbled to have been selected by a first-class organization in Minnesota," said I F E A S T. "Their trust and belief in me to be a cornerstone piece of this team alongside not just a top scorer, but a leader and elite player in Hood in exciting. We will represent the franchise in a professional manner and build a winning culture in Minnesota. I look forward to having a successful season as a member of T-Wolves Gaming."
The draft was held Wednesday night in New York City and included the other three expansion teams associated with the NBA's Atlanta Hawks, Brooklyn Nets and Los Angeles Lakers.