Lunar New Year shooting: How authorities found the suspected gunman
MONTEREY PARK, Calif. - California authorities have identified the suspected gunman in a mass shooting as 72-year-old Huu Can Tran.
Los Angeles County Sheriff Robert Luna made the announcement Sunday evening. He said Tran was found dead inside a white van from a self-inflicted gunshot wound. 
Authorities also recovered a handgun from the vehicle. 
RELATED: Lunar New Year shooting: Suspected gunman found dead from self-inflicted wound
Luna believes Tran opened fire on a Southern California ballroom dance studio, killing 10 people and wounding 10 more, Saturday night. 
On Sunday afternoon, law enforcement officials swarmed and entered a white van. Hours earlier, Luna said authorities were looking for a white van after witnesses reported seeing the suspect flee in such a vehicle.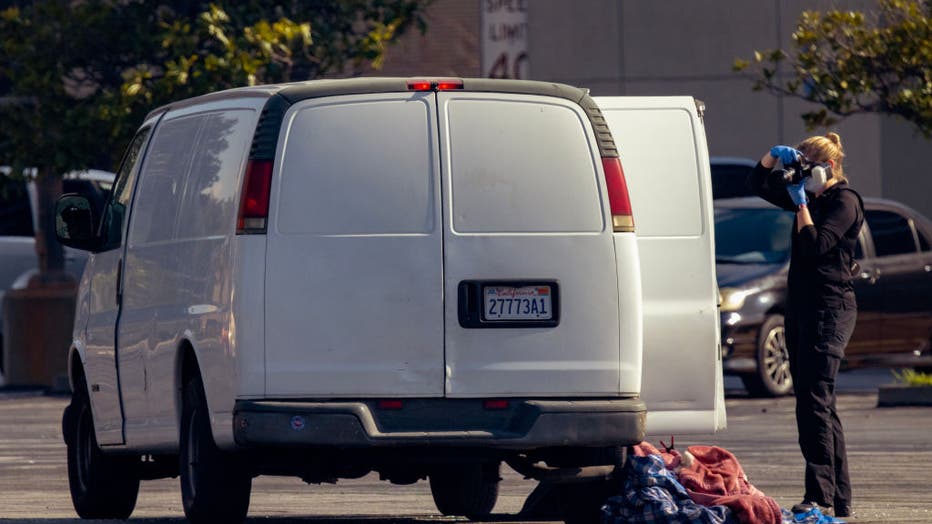 TORRANCE PARK, CA - JANUARY 22: An investigator photographs a van at the scene of a S.W.A.T. operation on January 22, 2023 in Torrance, California. Armored vehicles were used to entrap a vehicle driven by a suspect in a mass shooting in Monterey Park
Police surrounded the van with tactical vehicles and bomb squad trucks for hours before going in. A person's body appeared to be slumped over the wheel and was later removed from the vehicle, but authorities did not immediately identify the person.
The van was found in Torrance, another community home to many Asian Americans, about 22 miles (34.5 kilometers) from that second location.
RELATED: Lunar New Year mass shooting: What's known about suspected gunman Huu Can Tran
The manhunt came after a gunman killed 10 people at a ballroom dance studio late Saturday amid Lunar New Years celebrations in the predominantly Asian American community of Monterey Park. He likely tried and failed to target a second dance hall, authorities said.
Luna said the shooting at the Star Ballroom Dance Studio in Monterey Park left five women and five men dead and wounded another 10 people. Then 20 to 30 minutes later, a man with a gun entered the Lai Lai Ballroom in nearby Alhambra.
Authorities believe the two events are connected. They offered no details about a possible motive.
Luna said there are no other suspects at large right now in connection with the mass shooting. 
The Associated Press contributed to this report. This story was reported from Los Angeles.