Super Bowl 2023 airfare: What it could cost you to fly to the big game
PHOENIX - In less than two weeks, the Kansas City Chiefs will take on the Philadelphia Eagles in the Super Bowl. Eager fans who are planning to make it to the big game – taking place in Arizona – should be prepared for quite a hike in airfare, if flights aren't already sold out.
Immediately following the final playoff games on Jan. 29, flight searches from Philadelphia to Phoenix spiked 169% while searches from Kansas City to Phoenix surged 61%, according to Hopper data. 
This underscores how the Feb. 12 matchup is drumming up quite a bit of demand even with persisting inflation squeezing household budgets. 
MORE: Super Bowl LVII: Get ready for sticker shock, when it comes to game ticket prices
Over the past week alone, airline tickets purchased for travel to Phoenix spiked 25%. 
On average, airfare prices nationwide are sitting just under $445 for a round trip to the Super Bowl, according to Hopper's latest data. 
Airfare from Philadelphia, in particular, is averaging $566 for a round-trip ticket to the big game.
As of Wednesday, the cheapest flight from Philadelphia to Phoenix is $276 per ticket, according to Hopper data. That ticket includes two stops. The cheapest direct flight from Philadelphia is $529, although most direct flights are closer to $900 as of Wednesday, according to Hopper.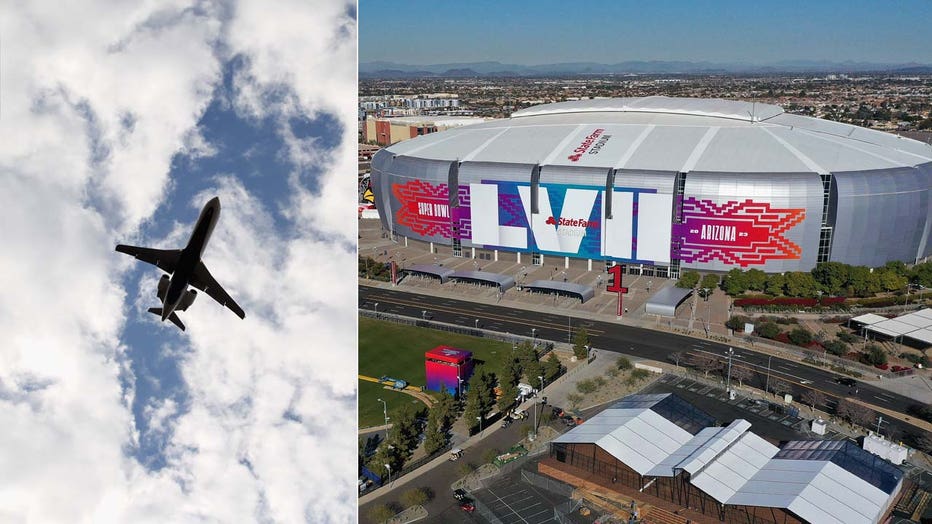 (Photos by Bruce Bennett/Getty Images and Christian Petersen/Getty Images)
For fans flying in from Kansas City, prices are averaging $603 round-trip. The cheapest ticket as of Wednesday costs $269 per ticket, but that comes with a two-stop layover. 
The cheapest direct flight is $459. However, most direct flights are averaging between $500 to $600 and reach upward of $1,200.
MORE: Super Bowl 57: All you need to know
With prices rising rapidly, fans should book now if they haven't done so already, Hopper's lead economist, Hayley Berg, said. She cautioned that the only tickets left may be ones with three layovers or ones that take at least 24 hours to arrive at the destination.
To beat the rush and get slightly better deals, Hopper suggests booking airfare on the Saturday before the game and leaving the following Tuesday. 
Booking on such days could save travelers $165 per ticket on average.  
Get updates on this story at FOXBusiness.com
More Super Bowl headlines
LiveNOW from FOX: Streaming live events, breaking news, and stories from around Arizona and the world.