SpaceX in final preparation for Starship orbital test flight from Texas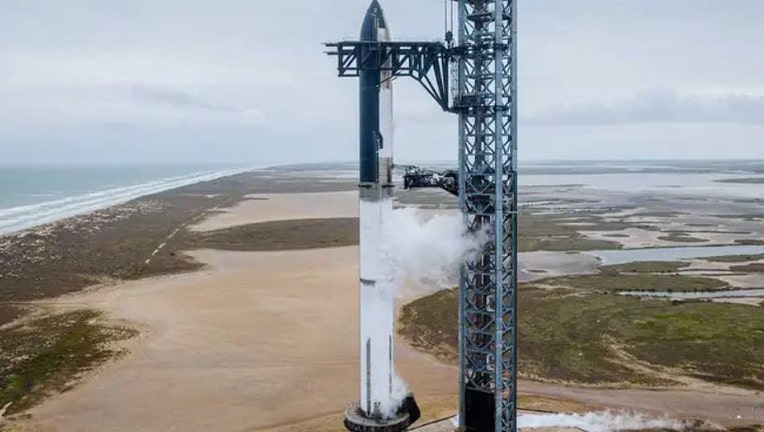 article
BOCA CHICA, Texas - SpaceX is inching closer to sending its massive Starship into space for the first time.
SpaceX's reusable Starship vehicle was selected by NASA as the human landing system for the Artemis program, which will land astronauts back on the moon by 2025. However, much work still needs to happen before Starship is moon-bound with astronauts aboard. 
Testing and work on the nearly 400-foot-tall Starship and Super Heavy rocket booster have been ongoing at SpaceX's facility known as Starbase on the South Texas coast. 
After a series of high-altitude tests and landing attempts with Starship prototypes, Elon Musk's company plans to conduct an orbital test flight as soon as February or March. 
This week, SpaceX completed a few milestones in an effort to move toward that test flight. 
20 YEARS AFTER COLUMBIA NASA REMEMBERS ASTRONAUTS LOST, VOWS NOT TO REPEAT PAST MISTAKES
The company said it completed Starship's first full flight-like wet dress rehearsal, which included loading Starship and the booster with more than 10 million pounds of fuel.
"Today's test will help verify a full launch countdown sequence, as well as the performance of Starship and the orbital pad for flight-like operations," SpaceX tweeted on Jan. 23. 
SpaceX said Starship 24 was unstacked from Booster 7 in preparation for a static fire of the Booster's 33 Raptor engines. 
When SpaceX fires up all 33 Raptor engines, they will rock the Texas coast.  Before such testing, Cameron County, Texas, officials will announce temporary closures for part of Highway 4 and Boca Chica Beach. The residents in the small beachside community of Boca Chica will also be notified. 
Musk said during a February 2022 talk he believed Starship would reach orbit by the end of 2022. Nearly a year later, SpaceX appears to be approaching this goal. 
SpaceX has yet to announce a target date for the Starship and Super Heavy orbital test flight.
Eventually, Starship will replace SpaceX's Falcon 9 and Falcon Heavy rockets. The spaceflight system was designed for deep space exploration to the moon and Mars. The spaceship and booster are reusable and can fly on multiple missions capable of carrying 100 metric tons to Earth orbit. 
Who will be the first to launch on Starship?
Dennis and Akiko Tito will be among 12 passengers on SpaceX Starship's second private flight around the moon. (Image: SpaceX) 
Ultimately, Starship will launch from NASA's Kennedy Space Center in Florida. A new massive launch tower at KSC launchpad 39A is under construction in preparation for Starship and Super Heavy launches. 
In addition to the NASA Artemis moon landing contract, SpaceX is on the hook for at least three private Starship spaceflights.
Private astronauts part of Businessman Jared Isaacman's Polaris Program are set to be the first passengers onboard Starship. The names of the crew have yet to be announced. Under the Polaris Dawn mission, Isaacman is getting ready for his second spaceflight on SpaceX's Crew Dragon, along with Scott "Kid" Poteet and two SpaceX employees, Sarah Gillis and Anna Menon.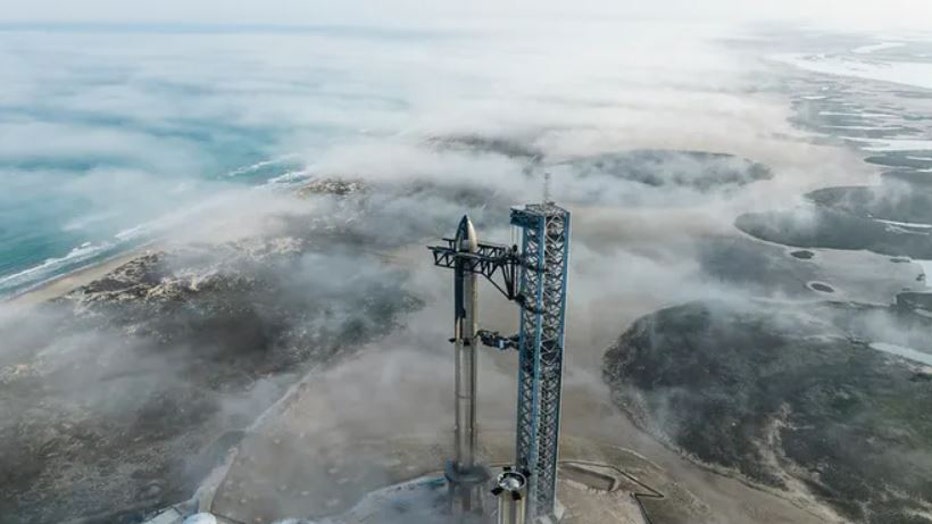 SpaceX Starship and Super Heavy booster stacked at Starbase in Texas in January 2023. (Image: SpaceX)
Japanese billionaire Yusaku Maezawa also purchased a ride on SpaceX's Starship to orbit the moon for himself and eight others.
Husband and wife Dennis and Akiko Tito will be among 12 passengers on a separate SpaceX Starship flight around the moon
It's unclear where the second and third private Starship flights line up with NASA's Artemis moon landing timeline in 2025.