Sinkholes forming at Oregon state park: 'Please use caution'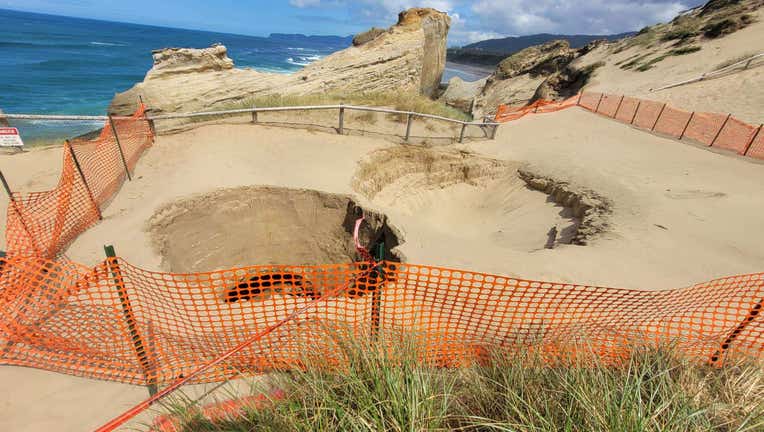 article
PACIFIC CITY, Ore. - A second sinkhole has been discovered at a state park in Oregon, prompting officials to issue an advisory to visitors. 
The latest opening was discovered Monday at Cape Kiwanda State Natural Area, according to the Oregon Parks and Recreation Department. Park officials said they discovered it after a picture was posted on social media. 
The sinkhole was formed about 10 inches from the previous one that first appeared in January. The first sinkhole measured about 25 feet across and 15 feet deep.
RELATED: Swastika Mountain in Oregon renamed Mount Halo as tribute to tribal leader
The second sinkhole measures about 10 feet across and about 30 feet deep. It also developed within the safety fence of the first sinkhole. The safety fence has been expanded to keep visitors away from any potential dangers. 
"We ask that visitors respect this barrier and all park safety barriers and that they keep pets on leashes and children away from the edges," Park Ranger Supervisor Travis Korbe said in a statement. "We are monitoring the site daily, but it's a dynamic environment. The soft sandstone cliffs can give way without warning, which is why it's important to respect safety fences everywhere in the park."
RELATED: NOAA offers $20K reward to find boater caught on video harassing sea lions
Park officials said they are working with a geologist to figure out where to place a permanent safety fence. They said the soil appears to be falling into large, unstable voids beneath the cliff caused by strong ocean waves.
What is a sinkhole?
Sinkholes are depressions in the ground that are caused when there's "no natural external surface drainage," according to the Department of the Interior's U.S. Geological Survey (USGS).
"Basically, this means that when it rains, all of the water stays inside the sinkhole and typically drains into the subsurface," the survey continues. 
"Sinkholes are dramatic because the land usually stays intact for a period of time until the underground spaces just get too big," the survey states. "If there is not enough support for the land above the spaces, then a sudden collapse of the land surface can occur."
In the U.S., the most damage from sinkholes typically occurs in Florida, Texas, Alabama, Missouri, Kentucky, Tennessee and Pennsylvania, according to the USGS.
FOX News contributed to this report. This story was reported from Los Angeles.