Sheriff declares ice out on Lake Minnetonka marking the official start of boating season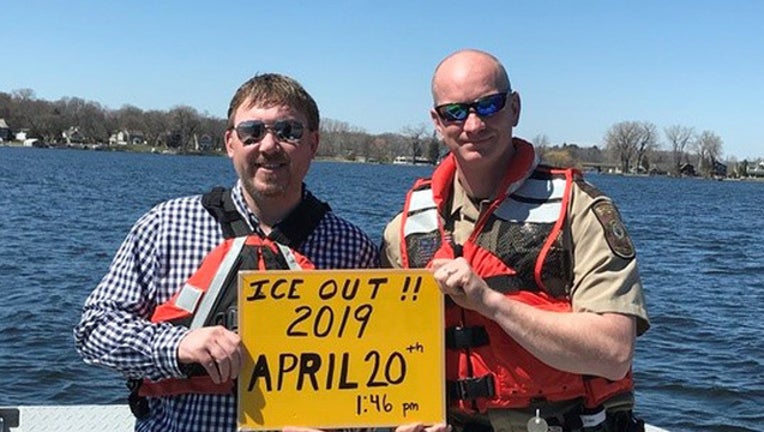 article
MINNEAPOLIS (FOX 9) - It's officially boating season in Minnesota as the Hennepin County Sheriff's Office declared ice out on Lake Minnetonka Saturday.
The Sheriff's Office partners with Freshwater each year to make the official declaration. This year's ice out occurred at approximately 1:46 p.m.
The Hennepin County Water Patrol routinely patrols the 14,500 acres of the lake to monitor ice thickness.
Saturday, HCSO deputies were able to safely pilot a patrol boat through all of the lake's channels and bays without any ice interference, which led to ice out declaration Saturday afternoon.
According to the Sheriff's Office, last week's snow storm and this week's rainfall helped accelerate the melt.
This year's ice out comes about 6 days after average, which his April 14. The earliest ice out on record was March 17 in 2016 and the latest was May 5 in 1857 and last year in 2018.
"We know that people always look forward to getting back on the water, especially after a long and difficult winter like the last one," said Hennepin County Sheriff David P. Hutchinson. "We would like to remind everyone to keep basic water safety in mind, so they can have a long, healthy and enjoyable boating season."
Although boating season is officially underway, the sheriff's office is urging people to be cautious early in the season. Their recommendations include:
Use caution when boating on Lake Minnetonka. There are many navigational buoys that are not in place yet.
It's especially important to wear a life jacket when boating. At this time, water temperatures on all bodies of water are cold. If you were to fall into water, hypothermia happens quickly in these conditions.
When boating or spending time near water, let someone know where you are going and when you will return.
Parents and caregivers are urged to supervise children when they are near the water.
In addition, Sophie's Law requires that all recreational boats that have an enclosed accommodation compartment, including sailboats with motors, must be equipped with a watercraft carbon monoxide detector.