Senate confirms Sonny Perdue as agriculture secretary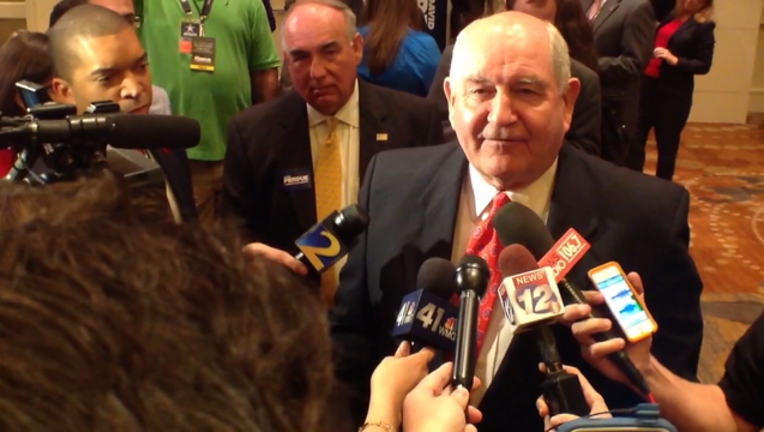 article
WASHINGTON (AP) - The Senate on Monday confirmed former Georgia Gov. Sonny Perdue to be agriculture secretary in President Donald Trump's administration as the farming industry looks to Washington for help amid a downturn in the market.
The Senate voted to confirm Perdue 87(equals)11. The son of a farmer from Bonaire, Georgia, he will be the first Southerner in the post in more than two decades. He has owned several agricultural businesses, but isn't related to or affiliated with the food company Perdue or the poultry producer Perdue Farms.
At his confirmation hearing in March, Perdue assured nervous farm-state senators that he will advocate for rural America, even as Trump has proposed deep cuts to some farm programs. He also promised to reach out to Democrats.
Still, Perdue, 70, is getting a late start on the job. Trump nominated him just two days before his inauguration, and then the nomination was delayed for weeks as the administration prepared his ethics paperwork. Perdue eventually said he would step down from several companies bearing his name to avoid conflicts of interest.
As agriculture secretary, he'll be in charge of around 100,000 employees and the nation's food and farm programs, including agricultural subsidies, conservation efforts, rural development programs, food safety and nutrition programs such as food stamps and federally-subsidized school meal,
Perdue will take office as farm prices have been down for several years in a row and some parts of the industry, including cotton and dairy farmers, say they need the department and Congress to rewrite agricultural policy to help revive their business.
Kansas Sen. Pat Roberts, the chairman of the Senate Agriculture Committee, said Perdue will help facilitate recovery in small American towns.
"I know he will put the needs of farmers, ranchers and others in rural America first," Roberts said.
Perdue's main task over the coming year will be working with Congress and coordinating his department's input on the next five-year farm bill. Current farm policy expires next year, and lawmakers on the House and Senate agriculture committees will have to find a way to push it through Congress amid heightened partisan tensions and concerns over spending.
At his hearing, he pledged to help senators sustain popular crop insurance programs and fix problems with government dairy programs.
Perdue may also find himself in the uncomfortable position of defending agriculture in an administration that has so far given the issue limited attention, despite Trump's strong support in rural areas. Trump has proposed a 21 percent cut in USDA programs and has harshly criticized some international trade deals, saying they have killed American jobs. But farmers who produce more than they can sell in the United States have heavily profited from some of those deals, and are hoping his anti-trade policies will include some exceptions for agriculture.
At the hearing, Perdue said he would be a "tenacious advocate and fighter" for rural America when dealing with the White House and other agencies and noted a growing middle class around the world that is hungry for U.S. products.
"Food is a noble thing to trade," Perdue said.
Perdue will also be part of the administration's response to a dispute with Canada's dairy industry, which has a new lower-priced classification of milk product that Trump says is harming U.S. producers in dairy states like Wisconsin and New York. Canada changed its policy on pricing domestic milk to cover more dairy ingredients, leading to lower prices for Canadian products that compete with U.S. milk.
Wisconsin Sen. Tammy Baldwin, a Democrat, voted for Perdue and encouraged him to come to Wisconsin to talk to affected farmers.
"I stand as a willing partner to work with Secretary Perdue and President Trump to address this urgent issue," Baldwin said.
Senate Democratic Leader Chuck Schumer of New York also talked to Trump about the dairy issue last week in a rare phone call between the two men.
Trump has reached out to farmers on regulation, saying the government has too many rules that negatively affect farm country. That issue is expected to come up on Perdue's first day in office Tuesday, when the president holds hold a round table discussion with farmers and sign an executive order "to provide relief for rural America," according to the White House.
The White House hasn't said when Perdue will be sworn in, but he is scheduled to speak to USDA staff Tuesday morning.
After Perdue, remaining nominees for Trump's administration to be confirmed are Robert Lighthizer for U.S. trade representative and Alexander Acosta for labor secretary.