Sartell community rallies around girl with rare disease
SARTELL, Minn. (FOX 9) - On Sunday, former Minnesota Vikings quarterback Tommy Kramer was at Waters Church in Sartell, as hundreds of people came together to support the family of a girl with special needs.
Alicia Messer's daughter Addison was born with Vitamin K Embryopathy and now lives with neurological and spinal cord damage. However, no matter what life throws at her, her loved ones say Addison keeps going.
"Addison is 6 years old, she spent about three of those [years] in the hospital," Addison's mother, Alicia, told FOX 9. "She's had 30 surgeries, 12 spine and brain surgeries."
"[A] life-saving surgery this past spring, because the spine was going to puncture the brain," fundraiser organizer Deboran Nelson added. "She lost the ability to walk."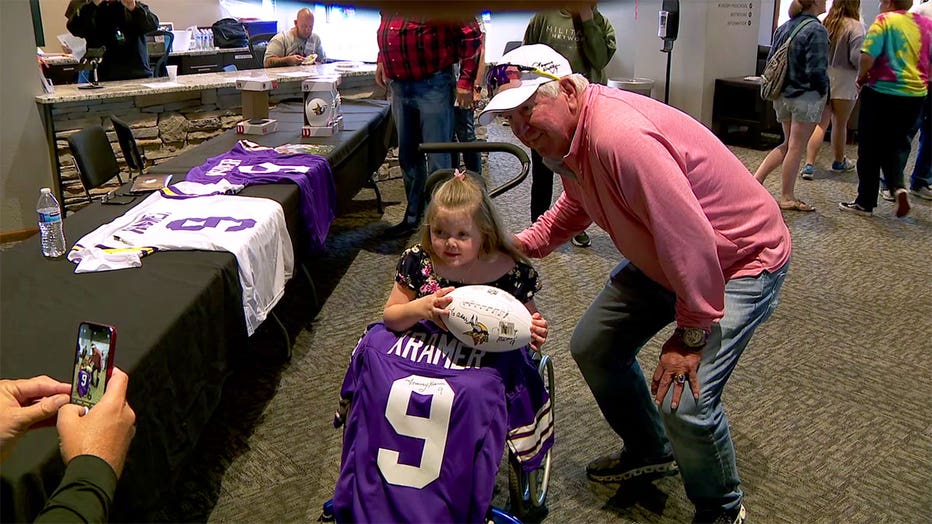 Nelson organized a dinner and silent auction to raise money to buy the Messer family a wheelchair-compatible minivan.
"I want everything taken care of for that family," Nelson said. "Because they've given so much to this church, to the community."
That meant a goal of somewhere between $60,000 to $80,000. On Sunday, they collected more than $20,000. If you'd like to donate, an online fundraiser has been set up for the family.
"It would change our lives," Alicia said. "Right now, I [won't] bring Addison places if it's a short term."
"Our goal is to get her to do everything that a normal child would do," Alicia finished.