Ryan Mallett drowning: No rip currents present when former NFL player died in 'tragic accident', sheriff says
DESTIN, Fla. - The Okaloosa County Sheriff's Office is investigating the drowning of former NFL player Ryan Mallett.
Mallett died on Tuesday afternoon in the Gulf of Mexico while trying to swim to a second sandbar off a beach near Gulf Shores Drive in Destin, according to OCSO. 
According to the Destin Fire Control District, a beach attendant called 911 at 2:12 pm. on Tuesday to report that six swimmers were struggling to make it back to shore. 
READ: Bucs linebacker Shaquil Barrett's 2-year-old daughter drowns in family swimming pool
DFCD says Destin Beach Safety quickly arrived on scene and were told that one swimmer had gone under the water and had not resurfaced.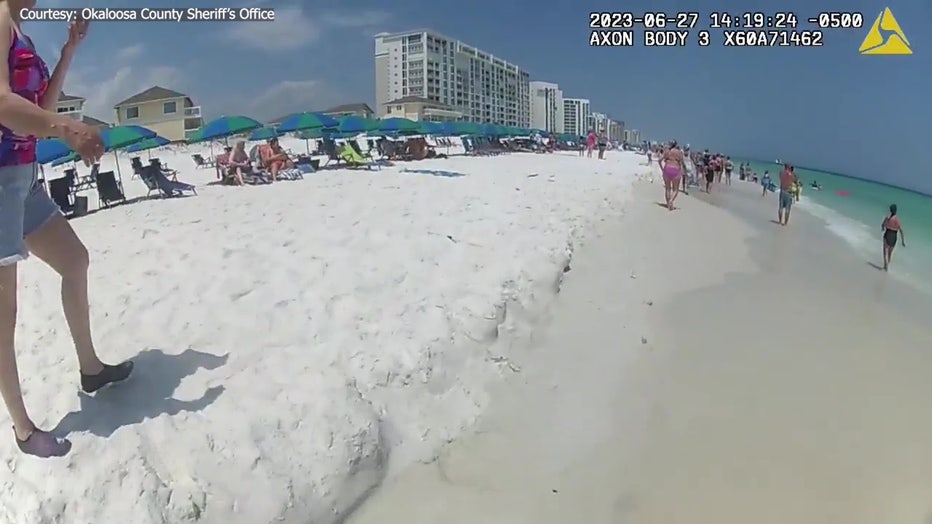 Body camera video shows the shoreline where Ryan Mallett drowned. Courtesy of the Okaloosa County Sheriff's Office. 
Two lifeguards entered the water to help the swimmers and recover the submerged individual, according to DFCD. Officials say an additional lifeguard entered the water to help find and rescue the submerged swimmer.
READ: What to do if you're caught in a rip current
Once the swimmer, who has since been identified as Mallett, was brought to shore, lifeguards and Destin Fire paramedics began life-saving measures.
Recently released body camera video shows a deputy running along the shore as beachgoers look out into the Gulf of Mexico. The deputy can be heard asking another deputy if he should go into the water and the other deputy says, "I think they got him on the board now."
The video goes on to show the deputy heading toward an ambulance waiting on a nearby road.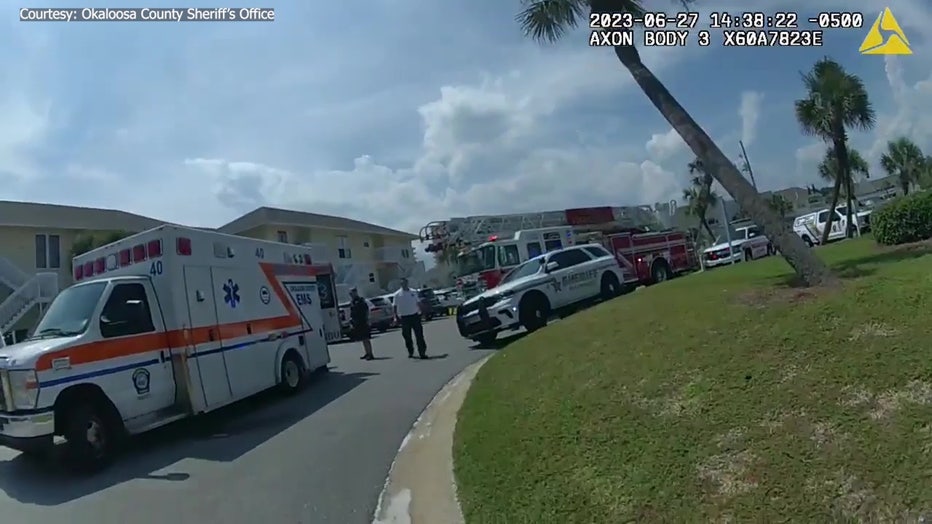 Body camera images show an ambulance near where Ryan Mallett drowned. Courtesy of the Okaloosa County Sheriff's Office. 
OCSO says there were yellow flags flying on the beach when Mallett drowned and there were no indications of rip tides.
READ: 'He's still alive': Mother of child with traumatic brain injury from drowning works to help other families
DFCD agrees and released a statement indicating that there were no rip currents present when it responded to the drowning of Mallett.
In a video statement, Sheriff Eric Aden said, "The recent events in Destin yesterday, the tragic loss of life, it's always difficult to lose a tourist or a resident here, but we have no indication of any dangerous conditions out there, for the entire Okaloosa County as well as Destin. We're not under red flags or double red flags despite some of the misperceptions out there. We were under a yellow flag, which is just a 'swim with caution'. It just seems to be just a tragic accident and not something to do with the conditions of the surf or rip tides or currents."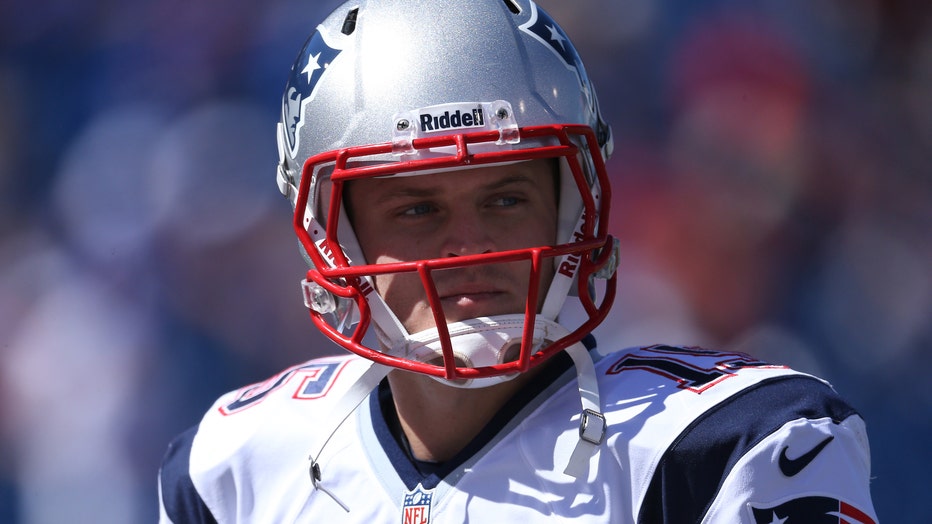 ORCHARD PARK, NY - SEPTEMBER 08: Ryan Mallett #15 of the New England Patriots warms up before NFL game action against the Buffalo Bills at Ralph Wilson Stadium on September 8, 2013 in Orchard Park, New York. (Photo by Tom Szczerbowski/Getty Images)
Mallett spent years in the NFL and studied under Tom Brady during his time with the Patriots.
In February 2022, Mallett took over as the head football coach at White Hall High School in Arkansas.