Report: N. Korea could have intercontinental missile by next year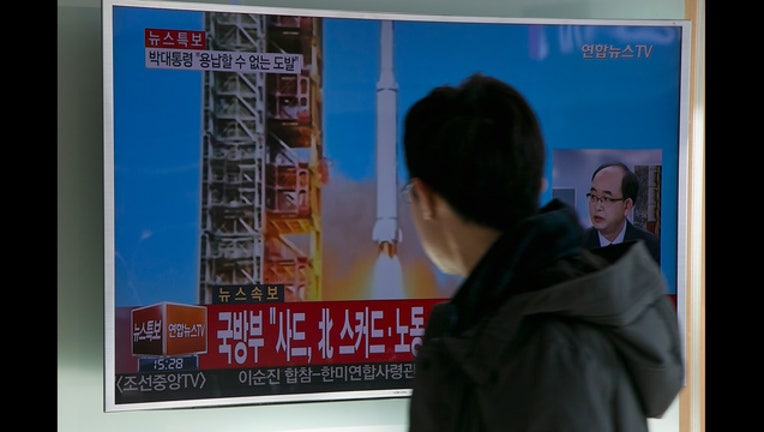 article
WASHINGTON (AP) - Intelligence officials believe North Korea will have a reliable, intercontinental missile capable of carrying a nuclear weapon as early as next year, according to a report published Tuesday amid a warning from a top Republican lawmaker who says he has grown increasingly alarmed about Pyongyang's weapons program.
The Washington Post reported that a new confidential assessment by the Defense Intelligence Agency trims two years off the timeline for when North Korea could strike North American cities with atomic weapons. The assessment was triggered by recent North Korean missile tests that indicated the nation's program was further along than expected.
The newspaper said that U.S. officials who had seen the assessment said it concluded that North Korean leader Kim Jong Un will be able to produce a "reliable, nuclear-capable ICBM" program by sometime next year, allowing the program to move from prototype to assembly line.
The House Armed Services Committee held a classified briefing for all members of the chamber on Tuesday to discuss North Korea's intercontinental ballistic missile development. The briefing team included Rob Soofer, deputy assistant secretary of defense for nuclear and missile defense policy; Air Force Lt. Gen. Samuel Greaves, director of the Missile Defense Agency; and representatives from the DIA and the National Air and Space Intelligence Center.
"The apparent success of the July Fourth test is an alarming development as North Korea accelerates its pursuit of being able to hold the United States at risk with nuclear weapons," Committee Chairman Rep. Mac Thornberry, R-Texas, said after the classified briefing, "I have grown increasingly alarmed that North Korea is acting with a greater sense of urgency than we are."
North Korea raised the stakes with its launch of an intercontinental ballistic missile as Americans celebrated Independence Day on July 4. The test marked a significant step toward North Korea's goal of developing a missile with a nuclear warhead capable of reaching the United States
Thornberry, who is pushing for a $2.5 billion increase to the Pentagon's missile defense budget, said Congress and the Trump administration need "to take forceful, swift steps to see that the U.S. and our allies are protected."
In what it calls an effort to stay ahead of the North Korean missile threat, the Pentagon is expanding its arsenal of anti-missile weapons based at Ft. Greely, Alaska, from 32 to 40 ground-based interceptors. That is in addition to four based in California. The interceptors are designed to destroy an ICBM outside the earth's atmosphere by slamming into it during flight. They are the only element of U.S. missile defenses that are designed specifically to stop ICBMs from reaching U.S. territory.
The Office of the Director of National Intelligence, which oversees all 17 U.S. intelligence agencies, declined to comment on any change in classified assessments.
Scott Bray, the ODNI's national intelligence manager for East Asia, said North Korea's recent test of an intercontinental-range ballistic missile was not a surprise.
"This test and its impact on our assessments highlight the threat that North Korea's nuclear and ballistic missile programs pose to the United States, to our allies in the region and to the whole world," Bray said.
At a conference in Aspen, Colorado, last week, CIA Director Mike Pompeo said he couldn't disclose specifics about how North Korea has been able to develop its missile program. He said North Korea has had lots of outside partners, suppliers, engineers and talented physicists who have helped them climb the "learning curve faster than one might do if you just simply did it internally."
Also at the conference, National Intelligence Director Dan Coats, was asked if North Korea is now a member of the club of nations with nuclear weapons.
Coats said: "Well, they've got some work to do to, I think, get through the club door, but they are very persistent in achieving that goal and we see a lot of research probably gained by each launch that they do whether it fails or succeeds."
___
Associated Press writer Robert Burns contributed to this report.